How I Designed My Unique Toi Et Moi Engagement Ring
It's truly one-of-a-kind.
Marina Liao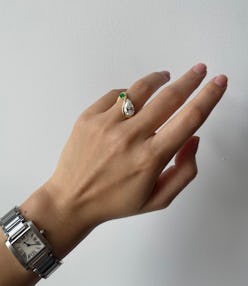 When my fiancé Woon and I first started talking about getting engaged last year, I knew I wanted to design my own ring to have it feel distinctive and cool. I had always loved the idea of a toi et moi style —French for "you and me" — because of its two-stone look. Traditionally, the ring features dual sparkly diamonds, but I wanted to find my own take on this, which was easier said than done. In hindsight, the journey to creating my custom, unique engagement ring really took time, research, and a coming together of the minds, as I worked with Los Angeles-based jeweler Katherine Kim and Woon on the piece.
If you, too, are thinking about a bespoke style, or simply want to hear about my design process (personally, I love a good nontraditional ring story), read ahead to see how I tackled this special project. Along the way, you'll find practical tips on how to create your own one-of-a-kind, forever piece, whether it be inspired by the classic toi et moi or not.
Try On (A Lot Of) Rings
My first piece of advice in the journey is to try on as many rings as possible — seeing them on your actual finger will either confirm your preferences or make you rethink your choice. For example: I loved Emily Ratajkowski's toi et moi piece and thought for sure I'd get the same exact design. However, when I tried on a replica of it, the diamonds not only looked too flashy for me, but it also didn't feel like something I'd wear. In total, I went to seven different spots around NYC to not only try on rings, but also see if I vibed with the designer or brand. It was important for me to find a designer who I connected with to carry out my vision. Some of my favorite in-store experiences include Greenwich Street Jewelers and The Clear Cut.
Although Emrata's style wasn't for me per se, I was still committed to the idea of a toi et moi. I played around with the gemstone pairings to see if I'd like any of the other combos: I tried on a pear shape with a square, two side-by-side pears, a square with a round. None quite spoke to me, though, and I wasn't sure why. Looking back on this now, I realized it's because even though I wanted a two-stone piece, I didn't know how to make it feel unique to me design wise. I needed to find someone who could help me flush out my ideas and essentially, guide me through the creative process. Eventually this ended up being Kim.
Two alternating pear diamonds.
A diamond with a colored stone.Marina Liao
Define Your Creative Vision
Doing your research pays off as then you are able to articulate your desires. "Prior to your preliminary consultation [with the jeweler], it's helpful to have a clear vision of your design," Kim says, explaining that she recommends this tip to all her clients who want to make a bespoke creation.
One of the easiest ways to personalize your jewelry piece? Incorporate sentimental details. "Look for inspiration from your shared experiences, interests, or cherished memories," Kim suggests, noting that elements like a significant stone, a custom engraving, or other symbolisms can be worked into the ring. "This will make it truly one-of-a-kind and deeply meaningful."
With this in mind, I thought about what was most important to me in terms of crafting my forever piece: working with an Asian-owned business and using yellow gold topped my list. I also wanted the bauble to feel meaningful, so I toyed with the idea of incorporating jade into my engagement ring, which I had not seen on anyone I knew. I grew up wearing the stone on a long red string — in Chinese culture, children are given this for "protection" — and have a sesame-colored jade ring I wear all the time.
Jade, too, carries significance in Asian communities, which also felt special to Woon, who is Korean. "Jade has taken on many meanings over the history of Chinese culture," says jewelry designer Ashley Zhang. "It is most used to symbolize prosperity, success, and good luck."
"Jade is believed to have powers to bring good fortune as well as ward off evil spirits," jeweler Grace Lee adds. "Some believe that when a piece of jade you are wearing breaks the jade is taking the misfortune that could have reached the wearer." In Korean culture, the same beliefs hold true. "Jade is thought to embody the traits of politeness and determination in the Korean personality," says Chloe Zhao, founder of Seree. "Moreover, the Korean royal family uses jade as a symbol of authority and fortune."
My Design Process
Once I landed on the idea of a jade and pear-shape diamond pairing, I knew I needed help with brainstorming the actual design. The brand I kept coming back to was Katkim. The label is known for its Trace collection and Kim had done a toi et moi Trace ring I loved. I reached out to her, and in our initial email conversations asked for mock-ups of jade and diamond pairings on a Trace band, so I could visualize what the rings would look like. As soon as I saw the renderings — see some of my favorites below — I knew I was one step closer to finding my perfect piece.
Still, I was hesitant to commit to anything without first trying on a regular Trace ring for size. So in February 2023, I booked a flight for me and Woon to L.A. to visit the Katkim showroom in person. There, I played with different pear shape diamonds and jades in different sizes to figure out which ones complemented my finger the best. I also tried on the Trace ring in various sizes so I could figure out just how pronounced, or not, I wanted the curve to look. In the end, I landed on a more subtle curve, a dark green color for my jade, and a half-bezel setting for my stones as opposed to prongs for a cleaner look. (The latter was something I would not have considered had I not spotted it on Kim's own Trace ring that day!)
During our consultations, too, I appreciated that she listened to me and answered all my complicated questions without judgment. "The role of your designer is not to sway you towards a custom route, but rather to realize and manifest your bespoke ring aspirations," says Kim, on the collaborative process between you and the jeweler. "By presenting your ideas during the consultation, the designer can adeptly collaborate with you to breathe life into your unique creation."
The Nitty-Gritty Details
Once I had the design in mind, Kim sourced a variety of diamonds for us to look at that fell within our budget. I had asked for both mined and lab-grown options, since I had not yet made up my mind on which camp I fell into. To be honest, picking out the stone through a virtual portal was the least romantic part about buying the ring — and also the hardest process. I kept weighing the 4 C's (carat, cut, color, and clarity) against one another to find the "perfect" diamond and had an internal battle over lab or mined. Ultimately, I went with the latter, having found a stone within our budget. Had I wanted it to be bigger though, like a 3-carat pear, I would have gotten a lab-grown piece to get more bang for my buck.
From here, we focused on the finishing touches. I chose a high polish finish to give the metal that bright glow versus a satin finish, which makes it look less shiny. Once the final rendering was confirmed and production started, I removed myself from the email chain that Woon had been on this entire time, too, so that I wouldn't know when the actual ring would be complete. (He handled the transaction and ring insurance — bless him.) This way, the proposal would still be somewhat of a surprise.
The Reveal
On June 17, during a relaxing cabin trip to Maine with our dog Willow, Woon popped the question. And I finally got to see the ring IRL, which we had been working on for half a year at this point. The precious toi et moi creation was even better than I had imagined, and it felt truly special to see our piece manifest from a computer drawing to a wearable piece of art. I know that no one else has this exact item, which added to the uniqueness my Aquarius heart desired. It goes without saying that this ring is easily my most-worn jewelry piece to date.