Kim Kardashian May Love Bangs, But This Is Her Boldest Version Yet
@kimkardashian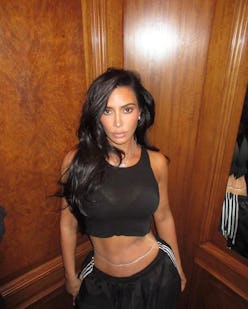 As a unit, the Kardashians have never been the type to shy away from dramatic new looks. This summer alone Kourtney and Kylie Jenner have blessed the internet with one tantalizing manicure after another. But, this weekend, Kim quickly reminded us that she's the reigning queen of the change-up in the family. At This Is About Humanity's fifth annual gala on Saturday in Los Angeles, The Kardashians star and mom of four showed off a bold new hairstyle that featured piecey bangs delicately placed across her forehead. Despite pairing them with a fitted black turtleneck dress adorned with heavy gold chain jewelry, it was clear that her newly fringed mane was the mogul's best accessory of the night.
You might say that the reality star is having a bit of a renaissance with her hair as of late, and even more specifically bangs. In the past few months, she's sported a range of styles including a voluminous curtain style and an alluring side-swept version. True, this may be the boldest and most polarizing look yet, but in true Kardashian-fashion she has perfected the art of balancing out the strikingly eccentric with simple and classic details. For the rest of her beauty look on Saturday night, for instance, the entrepreneur kept things simple, sporting a simple low ponytail with a subtle brown smoky eye, fluffy lashes, and her signature nude lip. In short, she was a tad more toned down than usual, no doubt to emphasize the appeal and effect of her new hairstyle. But if there's one thing fans can rely on Kardashian for it's her natural ability to shift while looking cool, calm, and comfortable.
The This Is About Humanity soirée is one of the non-profit's largest fundraising events, as it raises awareness and aid for families that have been separated at the U.S. Mexico border. To show their support, celebrities came in droves (Jordana Brewster, Kimora Lee Simmons, and Rachel Zoe were just a few of the A-listers in attendance). In between posing with Eva Longoria, who donned a sleek chignon and summery yellow gown, Kardashian shared a laugh with her mom, Kris, and Meghan Markle's mother Doria Ragland.
The Kardashians can always be counted on to constantly evolve and shift their beauty looks, so no one can be sure just how permanent this latest hairstyle from Kim will be, but her obvious love for bangs is clearly here to stay. If you've been on the fence about testing a similar style, consider her dedication an invitation to try your own version. And if you're really unsure, there's always the option of clip-ins for a one-night-only kind of moment.