Basic Ponytails Have *No* Place In Kerry Washington's Life, Thank You Very Much
Especially not when Kim Kimble herself is involved.
@kerrywashington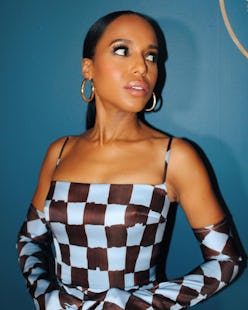 Working with Kerry Washington in any beauty- or fashion-related capacity has to be a career highlight, even for some of the industries most powerful players. How often do you have a star of Washington's stature actually willing to experiment, trialing new looks and trends rather than just sticking with a few tried-and-true staples? Kerry Washington's braided ponytail twist, created by iconic celebrity hairstylist Kim Kimble, is a wearable manifestation of the pair's creativity — combining several beloved styles into one elevated-casual look, it's one of Washington's coolest updos ever.
The actor's elaborate ponytail was just one of several excited hairstyles on her press tour promoting the second season of Hulu's Reasonable Doubt. For days now, Washington's been back and forth between New York and Los Angeles, dressed up in trendy, polished outfits with a matching standout hairstyle for each. She'd already worn a sleek, curly ponytail and a classic slicked-back braid before landing on this look, which she'd immediately follow up with a wrapped crown braid — in other words, Washington's showing no signs of slowing down her steady roll of excellent hairstyles. In the case of her braided ponytail, Kimble twisted two thick, individual plaits halfway down the head, encircling them tighter towards the bottom and allowing several inches of un-braided hair to flow free at the ends.
The result is an elevated, downright romantic take on the quintessential updo, making it look far less like the ponytails at any given gym and much more like the sort of intricate braid you'd see on storybook royalty. But that's classic Kimble — Washington's been Kimbleized, as the stylist-mogul is fond of saying.
Rounding out Washington's tailored, '70s-style denim look are a set of glossy, almond-shaped milk bath nails, Miu Miu sunnies, and a perfectly-contoured cheekbones. As her press tour continues, there's a chance that Washington might even best herself and debut a ponytail even more party-ready than this one — but this twist already has the bar set remarkably high.