Kim Kardashian's Scary-Sultry 'American Horror Story' Look Would Fit In On The Runway
The countdown to spooky season begins.
@kimkardashian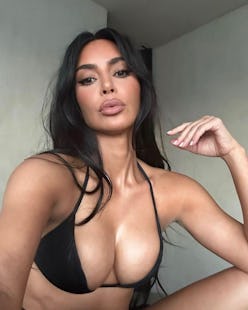 After nearly 20 full years of documenting her life, famous family, and assorted businesses, you might think you've seen every possible side of (and look by) Kim Kardashian. But her never-ending commitment to reinvention in exactly how she's managed to stay top-dog for so many years in a row, but her latest is something altogether unexpected. When news of Kardashian's American Horror Story starring role broke, fans were excited and more than a little curious. Was this a stunt-casting where she'd appear in a just few frames? Would she be playing an exaggerated version of herself or a totally different type of person? As the first teaser trailer for the wild new season hit the internet, there are still more questions than answers — but Kardashian's on-screen look is totally new territory.
Though exact plot and character details are still hush-hush for now, the first look at Ryan Murphy's newest creation definitely set the tone for everything to come. Subtitled Delicate, the trailer revolves around some extremely creepy lullaby renditions, medical procedures, what appears to be a circle of witches, and Kardashian holding a swaddled baby dressed up like Lady Gaga circa the Born This Way era. With her long, icy-white hair and stylized eyelashes poking up over her multi-lensed glasses, one of the most famous women in the world is completely unrecognizable.
Interestingly, Kardashian's billing comes third (only after AHS legend Emma Roberts and Cara Delevingne), suggesting she plays a major, legitimately starring role in the series. The full trailer is just below, but know there's depictions of medical procedures and instruments that some may find unsettling. It does reveal that Kardashian's look is the most fantastical of the three leads, while Roberts' and Delevingne's own hair and makeup looking appropriately dramatic but not as extreme.
Though she's appeared as herself in cameos for projects like Ocean's Eighteen, there was a time when Kardashian was trying to rack up more traditional acting credits, appearing in several popular sitcoms and a few movies. It's unknown whether or not she's making a full-fledged foray back into that side of the industry of just having a little fun — but it'll be entertaining to watch either way.