Emma Roberts' Pale Platinum Hair Color Is A Glamorous Return To Her Hollywood Roots
Phillip Faraone/Getty Images Entertainment/Getty Images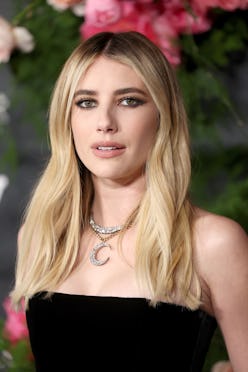 The moment you realize hair colors are so much more than standard-issue blonde, brunette, and red, all sorts of doors open up. Beneath each color category are infinite possibilities for shade, tone, placement, and blend, and no one understands that principle better than Emma Roberts — she's explored so many types of blonde through her years in the spotlight, but her latest might be the best one yet. Fresh off some experimenting with different root shadow highlight techniques, Roberts' pale platinum hair color looked so radiant as she filmed scenes for her long-anticipated return to the American Horror Story franchise. A softer and more low-key way to do especially bright-and-light blonde, expect to see plenty more pale platinum pop up this summer as the trend expands and spreads.
Roberts' new hair color was captured by photographers as she worked on-set, enhanced by long extensions she actually kept in for a quick vacation in the Hudson Valley. In the AHS photos, the blonde shade is in a warmer than a classic platinum, but that only serves to suit Roberts' skin tone better than an icier counterpart color. If you're been wanting to veer dramatic but wearable, this in-between could be just the ticket.
Celebrity colorist and Matrix brand ambassador Rachel Bodt is the creative behind Roberts' new hair, which she describes as a true "Hollywood blonde." In a press email, Bodt shares that she used a blend of both gold and beige tones to tease out more warmth and dimension, which creates a "natural, yet elevated look that gives the hair movement and body." It's overtly glamorous and a significant departure from the dark roots Roberts has been loving in real-life.
While most of the details surrounding Roberts' return to Ryan Murphy's terrifying anthology series are still hush-hush, these photos and the other actors in the frame suggest she'll be delivering Madison Montgomery-level performance, complete with GIF-able zingers and a memorable look to match — she's already got the hair and wardrobe down.