Kylie Jenner's Latest High-Drama Hair Color Proves She Got The Supermodel Gene Too
@kyliejenner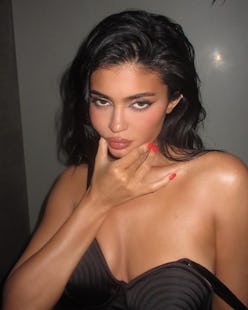 Kylie Jenner might be not-so-quietly scaling back some of her real-life and red-carpet beauty choices, but there's no limits when it comes to her workplace experimentation. As the newest, freshest face of Jean Paul Gaultier, Jenner is a conduit for some of the coolest, most creative fashion campaigns of the season. But it's Kylie Jenner's white hair in the latest shoot that's really making noise. Paired with bleached-blonde brows and bright, temple-climbing blush, Jenner is somewhere between a futuristic fairy and an action-packed anime heroine.
Jenner first announced her partnership with the legacy brand just after the Met Gala, which she attended in a Haider Ackermann-designed Gaultier gown. Just days later, she appeared a launch event for the new Gaultier line with her daughter, Stormi, on her arm. In the campaign images, Jenner's long, platinum white wig flows well past her hips, with a deep side part that shows off the dramatic blush. Interestingly, even in her day-to-day life, this has been Jenner's recent makeup M.O., too — very minimal product around the eyes, but tons in the cheeks. Of course, Jenner's signature lip definition is still visible with cool-toned rose liner making them as look full as ever.
The new collection repped by Jenner is themed around flowers and an augmented concept of nature, an apt choice for spring and summer. WWD reports Jean Paul Gaultier creative director Florence Tétier describing Jenner as "the representation of a modern mermaid that I was looking for." In behind the scenes photos, Jenner shares shots of her climbing into and out of assorted ensembles for the shoot, even taking some classic bathroom mirror pics with the hilariously out-of-context hair and makeup.
As fans of Hulu's The Kardashian series know, Jenner's photoshoot comes on the heels of her declaration that she and her sisters all need to take stock of "the beauty standards we're setting." After this conversation was teased in a new trailer for the upcoming season, social media sleuths noticed Jenner taking a step back from more extreme makeup trends beyond the red carpet. With this photoshoot, though, it's clear that Jenner still has plenty of room for her own self-expression.