Is Kourtney Kardashian Testing Potential Nursery Paint Colors On Her Manicure?
@kourtneykardash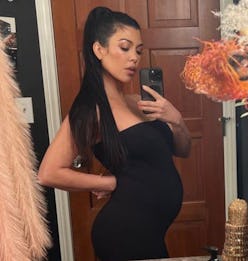 Slowly but surely, the black-lacquered layers of Kourtney Kardashian's glamorous goth area seem to be chipping away. First came the bikinis in every cheerful shade of pink and green to replace the dark, extra-sultry versions she's worn the past few summers. Then there was the long ponytail extension that transformed her sharp black bob into feet of silky, flowing hair. Now, just posted from her tropical vacation in Hawaii, is some minimalist nail art that would make her 2011-era self swoon. Kardashian's pastel French manicure features every color of the rainbow arced across her fingers, but in the softest shades — you know, like the sort you'd use to, say, paint a baby's room?
Kardashian showed off the new nails in a photo of a delicious-looking banana-filled bowl, which she enjoyed beachside. While her luxe Instagram posts don't reveal who she's with on this summery getaway other than her friend, Natalie, her bump-glorifying bikinis and cut-out one-pieces suggest this could be one final overseas trip — a babymoon, as many call them — before hunkering down for the final months of pregnancy. Regardless of if this is a last hoorah or just one vacation in a long line of upcoming travels, Kardashian certainly picked the perfect manicure for it.
The colorful little lines seem hand-painted onto Kardashian's short, natural nails, perhaps applied against a simple, lightly glossy nude shade. She skipped the long nail extensions and tips this time for a pared-down, streamlined look that seems very much in line with the softer hair, makeup, and outfits she's been going for lately. Of course, this all comes amid an inter-sister scuffle between her and Kim Kardashian, with the pair trading insults about who's been copying whose vibe — and "La Dolce Vita lifestyle" in particular — on their hit Hulu series.
Maybe Kardashian is getting back to the more colorful, overtly femme style she's favored for most of her time in the spotlight, or maybe she's just doing some simple experimenting for vacation — either way, her aesthetic choices throughout her entire pregnancy have been excellent across the board.