North West Beat Her Mother At Her Own Game With This Adorably Bold Manicure
She's coming for the crown.
Pascal Le Segretain/Getty Images Entertainment/Getty Images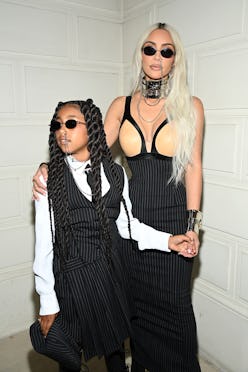 One of Kim Kardashian's most admirable traits is her unflinching commitment to the bit. When she's in London, she's decked out in full "hun" regalia at local pubs, pint in hand. For an impossibly tiny costume at The Met Gala, she threw herself into a controversial diet plan. And when taking her kids on a trip to Japan's Sanrio Puroland theme park, she did what any enthusiastic tourist would do and got 3-D nail art there. Kim Kardashian's Hello Kitty nails are more than just twee and adorable. They also match her daughter's nails, but to be perfectly honest, North's version of the manicure might just have her mother's beat. At nearly 10 years old, Kardashian's first-born is already exhibiting every telltale sign of a future fashion and beauty titan, which anyone who's checkout out their mother-daughter TikTok could corroborate.
Over on her Instagram, Kardashian's already dedicated several posts to their family Japan trip, which looks to be just another stop on their world tour — they've covered Mexico, England, and Paris in the past 10 days alone. Japan seems like an especially in-depth stop for the fam, where they've visited race tracks, hedgehog cafes, Super Mario World, and, of course, the Sanrio mothership. At Puroland, Kardashian's long, coffin-shaped French manicure was adorned with 3-D Hello Kitty charms and a few blooming cherry blossoms on the other hand — a very seasonally-appropriate touch.
But while Kardashian's nails are actually rather minimalist for a manicure that requires cartoon cat beads, North took a decidedly more intricate approach. On the @KimAndNorth TikTok they share, Kardashian and her daughter gave fans a closer look at each manicure. North's is much more over-the-top, with glitter, pearls, heart- and star-shaped beads, and multiple Sanrio characters, including Cinnamon Roll.
True Kardashian archivists might remember that the family are massive Sanrio stans, even throwing 5-year-old Chicago a lavish Hello Kitty-themed birthday party earlier this January. But it all tracks for Kim Kardashian, who, before the all-black Balmain and faux nose rings, was once so enamored of all things hyper-femme that she named her actual LLC "Kimsaprincess Inc." But with North and her endless creativity ready to claim her rightful throne, Kardashian should consider switching her title to "Kimsaqueen" instead.