Lori Harvey's Romantic Red Carpet Bob Is Fit For A Vintage Screen Star
She needs her own HBO series immediately.
Dominique Charriau/WireImage/Getty Images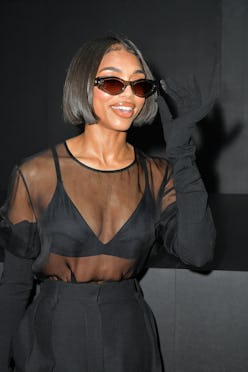 Lori Harvey might be the it-girl of 2023, but her poise, charm, and penchant for retro beauty motifs would make her a star in any era. All throughout New York Fashion Week, she flitted between shows, parties, and presentations, and still finds time to be a supportive partner in between it all. Harvey finally made it red carpet official with her boyfriend, Damson Idris at the final season premiere of FX's Snowfall. Posing for photos with her new beau, Lori Harvey's short, curly bob and classic black off-the-shoulder gown brought more than a little sophistication to the event.
A sleek, shoulder-clearing bob has been her signature look for a year now, but she always manages to add new elements like texture or part positioning to keep the haircut feeling fresh. This time around, it's her retro-inspired, inward-turning curls, plumped up with plenty of volume and spilling over one eye for a flirtatious, pinup effect. The best part of her Snowfall premiere look is how she manages to keep one foot firmly in the modern realm by incorporating contemporary makeup and nail trends, too. But if there's casting currently underway for any sort of Old Hollywood-inspired project, it's clear — Harvey needs a starring role.
The swooped curls' placement around her forehead helped create pseudo-bangs, too, a technique that's exploding in popularity among celebrities right now. Already this year, Gabrielle Union and Kylie Jenner have utilized hair placement to simulate a fringe, a hack that makes it easy to experiment without ever actually cutting the hair. Of course, Harvey's trademark baby hairs still get the spotlight, carefully gelled and laid just under the curls.
To complete the look, Harvey incorporated a few more of her favorite touches with lip liner, matte blush, and just enough warm-toned eye makeup for definition. While it's not immediately clear which professionals are responsible for her next-level red carpet look, this is definitely one for the ages.