Jodie Turner-Smith's Jade Nails Attract Luck & Wealth Like A Wearable Crystal
Manifestation manicures all summer, please.
@jodiesmith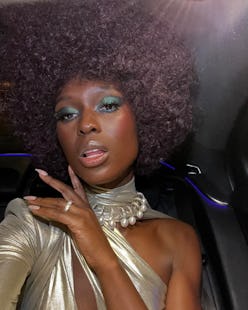 There's never been a red carpet that Jodie Turner-Smith can't enhance with her electric energy and distinct sense of style. But unlike so many of her peers, Turner-Smith's penchant for aesthetic experimentation extends far beyond just a fashion-forward premiere gown — she's one of Hollywood's most preeminent beauty lovers, using premieres and award shows as opportunities to show off the most major makeup, hair, and nail trends of the moment. The actor is also all about the small but impactful details, crucial for executing a standout beauty choice. Jodie Turner-Smith's jade nails aren't the first thing you'd notice in her Murder Mystery 2 premiere look, but their captivating iridescence and spiritual significance ensure you'll be thinking about them long after the movie's promotional tour ends.
Everything about Turner-Smith's red carpet look is tinged by gleaming gold, including her outfit, accessories, and every beauty component from her gilded bronze eyeshadow to the subtle golden shimmer in her lip gloss. Her jade green nails feature a gold-colored glaze, too, which just heightens the crystal-like effect of the manicure. Traditionally, jade's metaphysical properties include attracting wealth, luck, internal clarity and overall harmony — based on Turner-Smith's booming career and high-profile romantic life, it looks like everything is going according to plan.
Regardless of it Turner-Smith is trying to attract some extra luck or just loves the crystalline, glazed effect of her jade nails, incorporating subtle manifestations into outfits selections and beauty colors is having a moment of its own. Termed "lucky girl syndrome" over on TikTok, the concept is about attracting opportunity by visualizing a reality in which you're already preternaturally lucky and blessed with endless access and abundance. And speaking of abundance — those jade nails weren't the only wildly trendy, deeply glamorous piece of Turner-Smith's Murder Mystery 2 look. Her full, founded Afro is perfectly glossed for maximum shine and definition, tapered around her face to further emphasize her bone structure.
While the exact team responsible for her golden, glowing look have yet to be revealed, here's manifesting another collaboration soon — Turner-Smith's hair, makeup, and nails trifecta will go down as all-time greats.