With This 24K Gold Manicure, Jennifer Lopez Might Have Ascended To Her Final Form
@jlo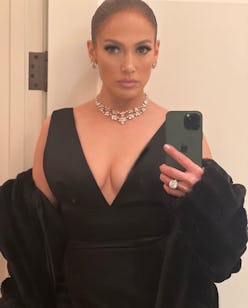 There's glamour, and then there's your average Wednesday at Jennifer Lopez's house. The pop legend has been more inviting than ever when it comes to inside looks at her life and projects, but she's also pulling back the curtain on her beauty secrets, too. Gone are the days of untouchable divas, glimpsed only at award shows or glossy magazines — Lopez and her team are all about showing off the brilliant details that go into that signature J.Lo glow. But for all her glitz, her latest manicure might be the most opulent of them all. Lopez's gold French tips at first glance appear like simple yet festive take on the classic mani — but take a closer look at Tom Bachik's handiwork and notice that all that shimmery confetti are actually tiny flakes of actual gold leaf.
The relentlessly creative Bachik shared his latest masterpiece on Instagram as a video, first showcasing the completed set and then going backwards to detail exactly how he brought the look to life. He starts with bare, unadorned Après Nail gel-x extensions in a medium-length coffin shape and dainty pinky-nude, gently filing them down for softer edges. From there, it's a painstaking process, with snowy white tips carefully painted on each nail and then filled in. The pièce de résistance, though, is the Madam Glam top coat packed with the gilded flakes.
"24 Karat French for @jlo," he captioned the post, followed by what's become the star's signature hashtag: #thisismenow — but that's actually where things get especially interesting. Fans see the set being designed and Lopez's Instagram handle, but where is she wearing this impossibly luxurious manicure? Lopez has been working on her upcoming album, This Is Me...Now, since she announced it nearly a full year ago. The record is poised for release in 2024, which means she's surely been wrapped up in cover art photoshoots and promotional imagery. Could this gilded set be the one of the first looks at Lopez's ninth studio album?
In the meantime, Lopez is busy with other projects. Her latest lingerie line with Intimissimi came with a stunning photoshoot, in which she wears yet another knockout manicure — that one's the same Après Nail extensions but topped with one layer of a sheer nude, Bachik also revealed.
Considering just how plush her 24-karat gold nails are, expect something major from Lopez before you know it — manicures this luxe are meant to be seen.