This Catalogue Of Jennifer Lawrence's Best Hair Colors Is Basically The Blonde Bible
Every shade, every undertone.
Nina Westervelt/Variety/Getty Images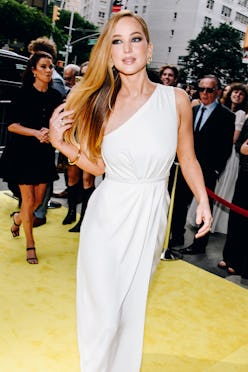 The next time you hear someone drone on about the death of the movie star, just send them a link to Jennifer Lawrence's filmography list. Though thoroughly modern in her approach to fame and the projects she picks, Lawrence is steeped in the classic charm of Hollywood's golden age, a social media-averse star who prefers an old-school approach to publicity. It's never more evident than in her red carpet moments, with her gowns and accompanying hairstyles all so refreshingly luxe. She doesn't seem to believe in the pared-down approach to big events, and it pays off. Lawrence's hair evolution indicates that her penchant for the overtly glamorous is inherent, with even her earliest public appearances all full of polished, trendy hairstyles that helped her blend right in with industry veterans.
Lawrence is the sort of beauty icon who always returns to her home base signature style — long, warm-toned blonde waves — but isn't afraid to experiment with more extreme looks, either. Oftentimes, they're even inspired by her projects. Lawrence dyed her hair an alluring shade of espresso brown for her Oscar-winning role in Silver Linings Playbook, then decided to keep the color around for a while. Similarly, just before the The Hunger Games series filming concluded, she chopped her highlighted hair into an asymmetrical, layered pixie to celebrate wrapping up the franchise. But no matter how far Lawrence strays from her trademark look, she'll always make her way back eventually.
Ahead, explore all of Lawrence's best colors and cuts over the years, starting with her very first moments in the spotlight.
Beachy Everything, 2009
One of Lawrence's first roles was on a family sitcom, but she looked straight out of The O.C. at several of her early public appearances thanks to her long, tousled beach waves and that sandy shade of blonde. She might be from Kentucky originally, but her hair is pure California girl.
Soft Bangs, 2010
It didn't take long for Lawrence to find her aesthetic footing. Retro-inspired styles seemed to be a favorite as she migrated over to the big screen from television, like these brushed-out curls and long Bardot bangs. Notably, her particular shade of blonde took a turn — it's far more gold-toned than in previous years.
Bombshell Blowout, 2011
For her very first Academy Awards — at which she was a nominee for Winter's Bone — Lawrence opted for a timelessly sultry hairstyle with tons of volume that helped show off her long layers and jaw-length bangs. Her pale shade of blonde is, at this point, its all-time lightest.
Brunette Stint, 2012
A natural blonde, Lawrence went dark brunette for her roles in The Hunger Games franchise and Silver Linings Playbook, the latter of which would earn her a Best Actress Oscar. And if a shot at the gold statue wasn't enough, the other big draw of her deep espresso-brown color is how well it makes her blue eyes pop.
Golden Bronde Layers, 2013
The perfect happy medium? Falling somewhere between her natural golden blonde and a honey-toned brunette, this hybrid hair color was par of her transition back to an overall lighter look after deciding to wear wigs for her final Hunger Games filming commitments.
The Ultimate Pixie, 2014
By 2014, she was back to a bright blonde — sans two feet of hair, though. Lawrence has since told Vogue that she majorly regrets this era-defining asymmetrical pixie cut, but it's already immortalized as one of the great chops in recent memory.
Pearl Blonde Bob, 2015
Lawrence clearly started growing her hair back out immediately post-pixie, and by late 2015, her waves fell nearly to her shoulder again. But long bob aside, her color saw an adjustment, too. This was the year she made a major turn toward platinum, jettisoning her usual gold for a much icier shade.
Silvery Platinum, 2016
Lawrence's platinum blonde reached critical mass by the following year she unveiled a color so cool-toned, it reads almost silver on the red carpet. Look closely and you'll notice warmer, contrasting shades woven in for some interesting dimension.
Voluminous Side-Part, 2017
Getting back to her literal roots, Lawrence was again warm all-over by 2017, just in time for an entirely new career phase. As she focused on grittier, more challenging roles, her hair got more natural-looking. At a film festival event, she returned to a voluminous center-part with tons of height to show off her layers.
Waves & Curls, 2018
Lawrence has said she had naturally curly hair as a child, making these bright blonde ringlets an extra-special appearance at her Red Sparrow movie premiere. She'd later wear a similar look to that year's Academy Awards, but nothing beats the first time.
Sleek Center-Part, 2019
In 2019, Lawrence took a low-key approach to even her most major appearances. Her hair color would stay the same warm, soft buttery shade for years, with polished waves becoming her new signature for an effortless look she'd wear to everything from fashion shows to film premiers.
On-Set Red, 2020
Like most of the world, Lawrence had a pretty quiet 2020. She filmed just one project, Don't Look Up, but it required her most exciting hair shakeup in years. Sure, her autumnal shade of burgundy red — and that short-banged mullet — are wigs from on-set, but doesn't the color look surprisingly natural?
Radiant Gold, 2021
Lawrence stunned through her entire pregnancy, but fans could not stop talking about just how long and lustrous her hair had become. A bit darker than it was in 2019, the gold color looks practically reflective when illuminated those bright paparazzi flashbulbs.
Extreme Lengths, 2022
Elegantly undone and so effortless, Lawrence showed off her ultra-long waves at the Toronto International Film Festival in 2022. This entire year is marked by her love for casual, undone glamour — while the waves look air-dried, they're still frizz-free and so shiny.
Rich Girl Waves, 2023
2023 was something of a hair renaissance for Lawrence. Pulling out all the stops for her No Hard Feelings promotional tour, every single public appearance was marked by an exciting hairstyle that shows off her impressive length and hair density overall.