Jennifer Lawrence's Bold Red Lipstick Happens To Be An Icon In Its Own Right
Arnold Jerocki/Getty Images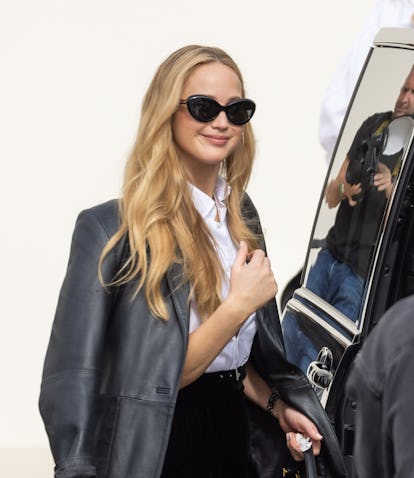 We may receive a portion of sales if you purchase a product through a link in this article.
Forget changing leaves or plummeting temperatures — the real way to judge seasons is via celebrity beauty look. When the sunburnt blush comes out, get ready for summer. If you start to see an influx of Hollywood redheads, it's probably fall. And when Jennifer Lawrence's bright red lipstick comes out to play, it's time to start planning your holiday party looks because winter is nigh. Lawrence showed off the rich, timeless shade on Tuesday night as she walked the carpet for the 2023 WWD Honors, a celebration of womenswear's most creative minds. The bold red lip color stands out against her black one-shoulder Dior gown, and it happens to be an iconic signature from that exact same fashion house.
Considering Lawrence has been a Dior brand ambassador and muse for so long now, her wearing the Rouge Dior Lipstick in legendary shade 999 just makes sense. The color is a well-balanced shade of red, but infused with the perfect amount of blue undertones to really complement Lawrence's skin. Applied by celebrity makeup artist Hung Vanngo, the satin-finish lipstick is naturally infused with plenty of shine to really pop, both in-person and in the photos the swarms of press photographers took.
A lip color this rich deserves to stand on its own, too. To keep the rest of her cosmetics appropriately minimalist, Vanngo carefully defined her lower lashes with a soft brown and some mascara, while the upper portion of her eye makeup features just a hint of inky black liner and what appears to be some low-key falsies. Her complexion is matte, illuminated by the faintest hint of pink blush, running from cheekbones to temples.
Meanwhile, celebrity hairstylist Rebekah Forecast kept the quiet luxury momentum up with a low, extremely shiny ponytail that falls all the way to Lawrence's mid-back.
Rouge Dior 999 is more than just the perfect red. Named for Christian Dior's lucky number, the shade was created back in 1953. Considered to be among the most universally flattering lipstick colors out there, it's also considered the signature "Dior red" and famously worn by screen legends like Grace Kelly — and now Lawrence.
Put its ideal-for-everyone reputation to test and recreate Lawrence's look for your first big event of the season.