Jennifer Lawrence Modified This Polarizing Hairstyle To Feel So Downtown It Girl
With an iced coffee in-hand, no less.
Gotham/GC Images/Getty Images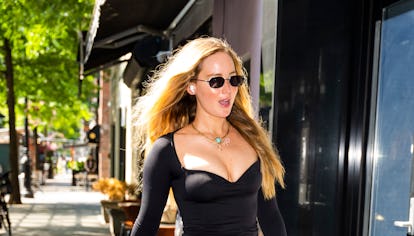 Summer beauty is an aesthetic Catch-22 — how do you balance looking and feeling stylish without melting into a sidewalk puddle? Sure, you can kick the season off with a trendy short haircut, cart a claw-clip around everywhere you go, or just give in to the elements and throw it all in a ponytail. Or, you could follow Jennifer Lawrence's lead and rely on a childhood classic for an ideal blend of comfort and coolness (in both senses). Jennifer Lawrence's pigtail braids were spotted on an early morning trip to a Tribeca fire station with her husband, son, and some neighbors in tow. By pairing the long, loose braids with a baseball hat, baggie jeans, and a tangle of layered necklaces, she keeps the hairstyle an arm's length away from anything even vaguely coquettish — this is pure downtown.
Even as she ramps up for the premiere of her first theatrical-release film since 2019, regular sightings of the Oscar-winning actor are still few and far between. But when she is glimpsed traveling between sets or roving her hometown of New York City, there's always an element of her look that hones in on a major of-the-moment trend. A hairstyles beloved by fellow stars like Bella Hadid and Tracee Ellis Ross, what truly sets Lawrence's braided pigtails apart is their intentionally loose, somewhat haphazard plaiting style.
By keeping the braiding less precise, tightly-woven, and smooth, the result is a look that feels far less schoolyard than it might otherwise. Much has been made about what real Y2K style looked like versus TikTok's rose-colored recreations, but Lawrence's casual braids, spaghetti-strap cami, and silver-buckled belt feel about as 2002 as it gets — in the best way, of course.
Paparazzi and red carpet photos taken over the past year show Lawrence's gold-toned blonde hair is longer than ever before, granting her the versatility to experiment with all sorts of styles. As the movie star's public appearances get more frequent over the next few months, keep an eye out — something says she's just getting started on the trend-stoking summer hairstyles.