These Iconic Looks From Hip-Hop Music Videos Are A Part Of Fashion History
Take a trip down memory lane.
Michael Ochs Archives/Getty Images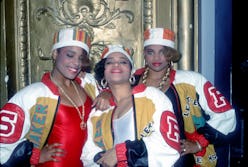 Hip-hop originated in New York City's Bronx neighborhood in 1973 as a musical experiment within Black communities, where DJs and emcees created percussion breakdowns from popular funk and blues songs. Though it began as a sonic endeavor, it wasn't long before fashion became an intrinsic part of the genre's culture as well. Items like tracksuits, chains, and Kangol hats (a brand of berets often worn by LL Cool J and The Notorious B.I.G.) became popular with the hip-hop crowd. These key pieces, along with leather jackets and wraparound sunglasses, often appeared in music videos from artists like De La Soul, Salt-N-Pepa, and Public Enemy as a way to give millions of viewers an aesthetic by which to define their fandom.
The visual storytelling served another purpose, too. Performers used their wardrobes as a way to help their fans differentiate their vibe and production techniques from their contemporaries. On the East Coast, the hip-hop sound focused on sharp, staccato lyrics while the accompanying fashion was more vibrant, sporty, and preppy. You can see some of this reflected in Jay-Z's "Excuse Me Miss" music video, where he wore an Adidas tracksuit with chunky, white sneakers. In contrast, West Coast artists sampled from funk music while wearing pieces like sports jerseys and low-waisted baggy jeans — think Snoop Dogg's look in his 2009 music video for "Beautiful").
MC Lyte performs at the Arie Crown Theater in Chicago in February 1989. Raymond Boyd/Getty Images
Salt-N-Pepa circa 1987.Tim Roney/Getty Images
While male artists certainly left their sartorial mark in hip-hop culture, female rappers offer plenty of inspirational style to appreciate, too. Take the tracksuits, varsity jackets, and sneakers with doorknocker earrings of MC Lyte (aka Lana Michele Moorer) in the '80s, which paved the way for Salt-N-Pepa to step in a decade later with an equally striking mashup of dressed-up casual wear and big blingy accessories. The first all-female rap group ushered in an era of cool denim looks (think matching sets and ripped jeans) and bright colors like mustard yellow and fire-engine red.
Musicians like Lauryn Hill and Missy Elliott have also experimented with style throughout their careers. Hill was the first rapper to break the decade-long athleisure trend among women by wearing pieces like cropped halter tops and micro miniskirts in her music videos. Elliott's signature look seamlessly blended traditional sporty attire with Hill's en vogue looks (see her outfits in "Work It" and "Get Ur Freak On").
Check out more of the most iconic hip-hop video looks ahead, including M.C. Hammer's "Hammer pants" and Jay-Z's iconic Timberland boots.
"Push It" — Salt-N-Pepa
Before baggy jeans and oversized sports jerseys of the '90s, Salt-N-Pepa kept classic '80s motifs alive and well in their iconic "Push It" 1987 music video. The duo, accompanied by DJ Spinderella, coordinated their vibrant looks in spandex bodysuits and bulky leather athletic jackets. One of their sartorial trademarks at the beginning of their careers was wearing gold chains of various designs, from rope and herringbone to cable. This later inspired hip-hop artists like Lil Jon, Pharrell, and T-Pain to don a gold chain as well.
"U Can't Touch This" — M.C. Hammer
In the 1990 music video for M.C. Hammer's first breakout hit, "U Can't Touch This," he sported his signature "Hammer pants," which featured a dropped crotch and tapered legs. The bottoms were originally inspired by Middle Eastern and Asian harem pants that featured a similar loose-fit design. The musician usually paired this piece with an unbuttoned cropped blazer, which allowed him to move freely as he danced. The eye-catching pants became synonymous with Hammer's reputation for embracing bold, fearless fashion and inspired others to eventually adopt the look. Rihanna wore a version of them in 2009 while attending Paris Fashion Week and just last year, parachute pants were en vogue with street style stars, thus proving the silhouette has taken on a life of its own.
"Fly Girl" — Queen Latifah
In 1989, while filming for the music TV series Yo! MTV Raps, Queen Latifah talked about how important it was for her to blend elements of her culture with her preferred eccentric, masculine silhouettes. "By wearing African clothes, African accessories, not only am I supporting my African brothers and sisters who have these businesses, but it brings me closer to my ancestors," Latifah said. "Not to mention, they're comfortable. I just feel inner power." The rapper's outfits for her 1991 music video "Fly Girl" included three blazers that drew influence from traditional African dashikis, a loose brightly colored shirt or tunic originally from West Africa.
"Jump" — Kris Kross
Kris Kross was the youngest hip-hop duo to gain worldwide fame in 1992 with their catchy tune "Jump." The music video opens up with Chris "Mac Daddy" Kelly (then 12 years old) and Chris "Daddy Mac" Smith (who was 13) wearing sports jerseys and jeans backward. This look resonated with the younger generations of hip-hop lovers and inspired them to make it a part of their daily wardrobes. As the group's popularity grew, the artists stayed true to their unexpected choice in wearing jeans backward for their other music videos and live television performances.
"Gin And Juice" — Snoop Dogg
One of Snoop Dogg's signature '90s pieces was an NHL hockey jersey, which he first wore in his 1994 "Gin and Juice" music video. This fashion move separated him from the other rappers at the time, who would sport the latest NBA and NFL merch instead. Thanks to D.O. Double G, other artists like Tupac, Lil Jon, Drake, and Lil Wayne have all tapped into the NHL jersey trend in their own wardrobes.
In a 2021 interview with The Athletic, Snoop revealed that his decision to wear the niche item was far less deep than one may assume: He simply thought they were fashionable. "I definitely put [hockey jerseys] on the map and was at the forefront of musicians who rocked them from rock to country to hip hop," Snoop Dogg said in the feature. "I had no idea that it would have the cultural fashion impact that still stands to this day." The rapper says he opted for The Penguins jersey specifically because the team's black and yellow colors matched the Pittsburgh Steelers' own hues, one of Snoop's favorite football teams.
"Crush On You" — Lil' Kim
Lil Kim was a pioneer in the hip-hop fashion world, and gravitated to brands like Giorgio Armani, Versace, Alexander McQueen, and Dior. Her purple pastie jumpsuit, designed by stylist Misa Hylton, at the 1999 MTV VMAs showed just how fearless she was with her sartorial choices. The same can be said for her looks in her music videos. In her "Crush on You" music video from 1997, the rapper wore a red lace bra and thong combo, tapping into her penchant for rocking some form of lingerie-inspired pieces in her videos. She accessorized the look with a matching red wig and tons of layered chunky gold jewelry — a staple of the late '90s.
"Rosa Parks" — Outkast
Rappers like Jay-Z, Snoop Dogg, and LL Cool J wore sports jerseys quite frequently, but it was Outkast's Andre 3000 that took the design a step further. The duo sported football pads as outerwear in their music video for their 1998 hit song "Rosa Parks." Combined with furry Hammer pants, the combination was a delightfully campy change-up in a time of minimalism and neutrals among male rappers.
"She's A B*tch" — Missy Elliott
Missy Elliott's outfits always made an unforgettable statement. This much was evident in the rapper's patent leather spiked jacket in the 1999 "She's a B*tch" music video. The emcee's penchant for taking style risks was unmistakable in the black-and-white short film: She wore over-the-top costumes like giant bee-like sunglasses and a Renaissance-esque metallic cowboy hat (that Beyoncé would undoubtedly approve of).
"No Scrubs" — TLC
TLC's matching metallic looks in the "No Scrubs" music video (1999) established the group as ones to watch in '90s fashion. In the futuristic film, the trio danced in four different colored spacesuits: white, black, and silver, with rapper Left Eye taking a solo in blue.
"Always On Time" — Ja Rule
In Ja Rule's 2001 "Always on Time" music video, the musician wore a Burberry bucket hat and tee, marking the first time a major fashion house was featured in such an overt way. This kick-started the label's decades-long relationship with hip-hop artists; the brand went from being worn for a few seconds in music videos to being name-dropped in lyrics. See: Jay-Z's first collab with Beyoncé, "'03 Bonnie & Clyde," which featured a reference to Burberry's swimwear line and Ludacris promoting cologne for the heritage house in Missy Elliott's 2002 "Gossip Folks."
"'03 Bonnie & Clyde" — Beyoncé & Jay-Z
Prior to their Grammy-award winning song "Crazy in Love" (2003), Beyoncé and Jay-Z's first musical collaboration was "'03 Bonnie & Clyde" (2002). For their music video, they dressed in peak Y2K hip-hop fashion, where Jay-Z was one of the first rappers to introduce Timberland boots as everyday wear to fans.
"Montero (Call Me By Your Name)" — Lil Nas X
Since Lil Nas X first broke onto the scene in 2019 with his No. 1 remix hit "Old Town Road," his gender-bending red carpet looks have broken sartorial boundaries in the hip-hop community. One of his most memorable outfits was when he wore a lilac-colored, crystal-bedazzled jumpsuit with a flowing train to the 2021 MTV Video Music Awards. Additionally, on this night, he won Video of the Year for "Montero (Call Me by Your Name)." The rapper constantly challenges traditional ideals on what is deemed acceptable for men in music to wear.
Lil Nas X's fashion choices for his music videos follow a similar theme to his red carpet preferences as he experiments with subversive garments such as corsets, petticoats, bras, thongs, and heeled thigh-high patent leather boots. In 2021, his Marie Antoinette-inspired head-to-toe denim moment in the music video for "Montero (Call Me By Your Name)" was one of his more intricately-styled looks that also featured bold beauty moments: He wore a tall powdered baby blue wig and dramatic elongated nails.