Why Hailey Bieber's Fake Freckles Are The Most Genius Part Of Her Makeup Routine
@haileybieber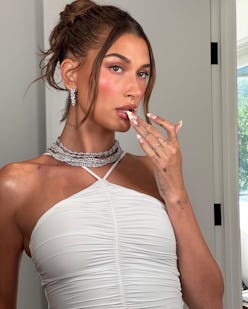 We may receive a portion of sales if you purchase a product through a link in this article.
It's a principle so ancient, it's practically inscribed in stone: getting ready is, indeed, the best part of going out. The pump-up playlist is booming, friends are helping each other wrestle with false eyelashes, perhaps there's a few pre-event cocktails getting passed around to help set the tone for the evening — there's nothing like the beauty pregame, and Hailey Bieber clearly knows it. The young star is so open with fans about her getting-ready process, she often invites them to come along through social media video sharing. Bieber's night-out makeup routine, was just uploaded to her TikTok, much to the delight of her 11 million followers. But this glimpse into Bieber's day is more than just a look at her favorite products of the moment — she's also letting the audience in on more than a few clever little hacks designed to emphasize everyone's own natural features. Just consider it the most enjoyable educational session possible and get ready to take some notes.
In well-lit bathroom where she filmed in the video, Bieber first starts with some glow-inducing skin prep, sweeping her own Rhode Peptide Glazing Fluid and new Glazing Milk all over, before pressing in a final layer of Weleda Skin Food — it's a makeup artist-favorite stand-in for primer, especially beloved by those who do backstage work. Then, the real makeup work can begin.
After some strategic concealing-contouring with the Tom Ford Beauty Shade & Illuminate compact and Hourglass Vanish Airbrush Concealer, she mixes some of that Rhode Peptide Glazing Fluid with the Chanel Vitalumière foundation (which sadly now being phased out by the brand), sweeping it all over with an Hourglass brush.
Here's where it gets especially interesting, though. After expertly implementing a double-blush technique, in which she layers two different shades for added dimension and vibrancy, she dots a Morphe Freckle Pen over where her real freckles, moles, and beauty marks are. This is high-key genius — by re-emphasizing the spots that foundation and concealer usually covers, she makes the makeup look so much more natural and lightweight.
Nearly finished, Bieber wraps things up with a clear coat of Anastasia Beverly Hills brow gel, some quick lash amplification with Hourglass's Unlocked Instant Extensions Mascara, a tiny cat-eye flick with a Sephora brand eyeliner, and a natural-toned lip. Though her look is for a fun night-out, it's a remarkably low-key product lineup — nary a tube of lash glue in sight.
The end result is a fresh-faced look that emphasizes Bieber's own brand of beauty. Give it a try on your next major outing — the top products she used are all just below.