The Buzzy 'Tomato Girl' Aesthetic Makes Perfect Sense For Summer
Rouje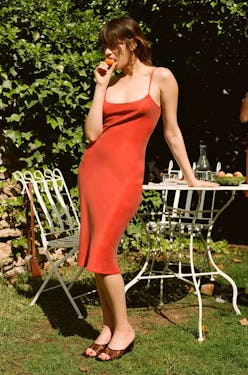 We may receive a portion of sales if you purchase a product through a link in this article.
TikTok-fueled fashion trends are something of a weekly occurrence nowadays. From Mermaidcore to Coastal Grandmother there's no style theme left unpacked on the platform. The latest viral vibe to grab the internet's attention? That is the ineffable Tomato Girl, an aesthetic as deliciously enticing as it sounds. "It's dressing with the energy of Sophia Loren, carrying a giant bowl of pasta to a table full of guests," explains Rosette co-founder Susan Korn, who designed her new collection alongside fellow co-founder Doria Santlofer with this very vibe in mind. "It's a lush, sexy take on life and approaching everything and every situation with a hearty appetite."
Stripped down to its essence, Tomato Girl is an extension of enduring Mediterranean style sensibilities. This can take shape in a multitude of silhouettes, patterns, and palettes. Anything one might wear whilst enjoying olives and a glass of Fiano along the Amalfi Coast is fair game; including but not limited to: gingham prints, slit skirts, lace-trims, fruit/floral/vegetable motifs, micro (but also maxi) hemlines, triangle headscarves, body-skimming silhouettes, kitten mules, and straw bags. "It's all about embracing that natural sun-kissed glow that comes with the warmth of summer," Lisa Says Gah founder Lisa Bühler says. "It's a bit nostalgic, youthful, and definitely an out of office energy."
So why tomatoes? Well, why not? "This aesthetic is inspired by a woman who is as bold and vibrant as the juicy tomato she holds in her hand," Bühler says. "Whether we're lounging on a beach or frolicking through a field, we can take a cue from the Tomato Girl and radiate confidence, vibrancy, and a zest for life." Ahead, five outfit ideas to channel her this summer.
Carefree Textures
Crisp, simple, and carefree — an all-white palette is well-aligned with Tomato Girl summer. Commit to the look with this olive-print tank (from Lisa Says Gah's Italian Summer collection) and pair it with a cotton poplin skirt that resembles a puffy cloud. No need to fuss with extra accessories, a simple mule and beaded jewelry should do the trick.
Pretty Little Prints
Tomato Girl feels innately linked to vintage references, and a micro-floral cardigan and matching cami captures the mood. Pair with a crochet bucket hat and lace skirt for a balance between cute and come hither.
Effortless Separates
Every Tomato Girl outfit should give the impression that your life is one long sun-drenched afternoon by the sea (even if you are just escaping to an air-conditioned coffee shop around the corner). Channel this mood by investing in a breezy button-down that you can pair with absolutely everything, be it linen pants, a slip dress, or a textured mini skirt.
Zippy Color Palettes
Juicy hues reminiscent of citrus and pulpy tomatoes no doubt makes a strong addition to the Tomato Girl wardrobe. Slip into a super-saturated orange dress for balmy summer evenings and complement the statement piece with accessories like a white shoulder bag and delicate jewelry.
Gingham Galore
Whether done in classic navy-and-white or in unapologetically girly-girl pink, gingham speaks deeply to the Tomato Girl's Italian summer sensibilities. Go for a matching set in a curve-hugging cut and toss a cute rugby over your shoulders for when the sun dips down.