Hailey Bieber's Newest Rhode Launch Is Making Essence An Essential
Glazed donuts, meet Glazing Milk.
Photo By Zhong Lin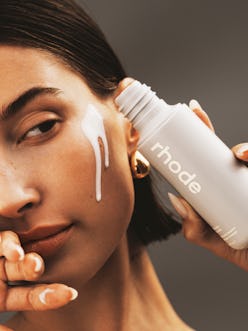 We may receive a portion of sales if you purchase a product through a link in this article.
It's hard to believe given the ubiquity of the brand's signature rounded gray bottles and tubes — especially the lip balms poking out of celebrity back pockets — but Hailey Bieber's Rhode skin care company is only just now celebrating its first anniversary. While Bieber and her team kept things feeling fresh with limited-edition lip treatment flavors and in-depth application tutorials, the line is finally expanding with the launch of an all-new product. Rhode's Glazing Milk is an essence rich in ceramides, which help form and maintain the all-important skin barrier. While essences are a key element of K-Beauty's famed 10-step skin care routines, they're still all too often overlooked or seen as an optional extra. But if Bieber has anything to say about it, essences are about to become an essential.
The new Glazing Milk joins Rhode's tightly curated existing lineup, a three-piece set that includes the Peptide Glazing Fluid, Peptide Lip Treatment, and Barrier Restore Cream. The Glazing Milk is formulated for application after cleansing and before the Glazing Fluid (or any other serum). Essentially, it helps balance the skin with an ideal blend of hydrating agents that not only plump and moisturize, but prime it to maximize the efficacy of everything that follows.
The most important piece of the Glazing Milk's formula is the combination of three distinct ceramides. As fatty acids, ceramides make up around half of the entire skin barrier — but the kicker is ceramide production wanes with age. Replenishing and fortifying them is crucial for reducing water loss in the skin. To support the ceramides, the Glazing Milk also boasts magnesium, zinc, and copper, fused into a custom blend designed to guard against free radical damage. But despite the rich, creamy feel of the Milk, its micro-emulsion texture sinks right in, so it doesn't pill or foam under serums or makeup.
In a how-to video shared by the brand, Bieber reveals that she uses the Glazing Milk twice per day as her first skin care step after cleansing. After shaking up the bottle, she presses it into the skin with her fingertips. "It gives such a light but dewy, hydrating feeling on the skin," she says, working a generous amount in. A few minutes later, as the formula sinks in, she examines her complexion again. "The sheen on the skin is so nice, my skin just looks healthy, and glazed, and hydrated — all the things that we want."
"I am so proud of this product and proud of the whole team," Bieber shared on her Instagram, announcing the new drop to the excitement of her fans. "I feel so grateful and excited to continue expanding Rhode." With that said, expect plenty more skin care surprises from the founder soon.
The Rhode Glazing Milk launches on June 15 at rhodeskin.com, but you can join the waitlist now.