Summer's Most Polarizing Hair Color Trend Debuted At Coachella, Of Course
@haileybieber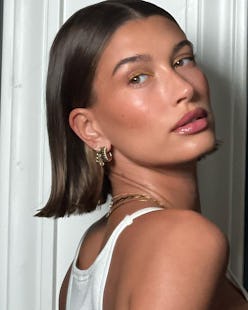 The Monday after Coachella feels a lot like the day after a major holiday. With so much time spent planning, speculating, and spectating, both festival weekends seem to just fly right by — and waiting a full year for the next one might as well be an eternity. The only thing to do now is pore over all the celebrity hair and makeup from Coachella 2023, and start examining all the summer trends they're igniting. Over the course of two 72-hour periods, stars like Hailey Bieber, Lori Harvey, and the ladies of BLACKPINK introduced the world to summer's most fun-filled hairstyles, elaborate manicures, and experimental makeup looks of the year. But even among all that trendiness, certain elements stand out.
If the Coachella festival grounds are any indication, it looks like rainbow-colored highlights might be the must-have hair color of the season. Whether incorporated subtly, like Becky G's denim-blue braids, or worked into full maximalism mode as seen on Saweetie's stunning rainbow heart wig, it's officially time to stock up on Manic Panic, hair chalk, and colorful clip-on extensions. Beyond the world of hair, though, platform-boots-on-the-ground spotted face gems, neon manicures, and electric-colored eye makeup all through the valley. Below, get acquainted with the top beauty looks of Coachella 2023. By all accounts, they'll sure to double as the biggest hair, makeup, and nail trends of summer, too.
Zendaya
If you noticed a major scale back in elaborate festival dressing, you're not alone. To a certain extent, the normcore-ification of Coachella fashion extends to beauty, too, exemplified by Zendaya's look. Delighting the crowd with a surprise performance during Labrinth's set, Zendaya stuck to her signature curls and a subtle, shimmery eyeshadow shade. Chic, simple, and Rue-approved.
Latto
And speaking of mermaid-worthy curls, Latto let her own hip-length, honey-blonde ringlets flow free above her cherry bustier ahead of her Coachella Weekend Two set. Celebrity hairstylist Ashanti Lation worked on Latto's hair for the festival using Maui Moisture products, explaining in a press release, "we decided to go full-on Vegas as a play on Latto's hit single 'Lottery.' We wanted big, glamorous, and flashy! Mission accomplished. These larger-than-life curls came out so shiny and bouncy."
Kendall Jenner
Colorful highlights are all the rage right now, but natural-looking streaks like Kendall Jenner's new caramel highlights, are just as big. Captured by Kylie Jenner with the help of a super-strong camera flash, the subtle highlights wrap around the face to offer some added dimension and warmth in time for summer.
BLACKPINK
Frazer Harrison/Getty Images Entertainment/Getty Images
Frazer Harrison/Getty Images Entertainment/Getty Images
Dubbed "Pinkchella" by thousands of adoring Blinks (that's a BLACKPINK stan, for the uninitiated), the music festival bar was set impossibly high by K-pop group. Outfitted in colorful eye crystals and gems from SIMIHAZE's Eye Play collections, the group went for bold winged eyeliner and tons of sparkle.
Hailey Bieber
Hailey Bieber's neon green nails already made headlines for their trippy glow-in-the-dark luminesce, but her Coachella makeup look is just as cool. Paired with her flipped-out bob, Bieber's subtle streak of gold eyeliner is a serious contrast to the bold blue look she went with last year.
Flo Milli
Created using NYX Cosmetics products, Flo Milli's gradient purple eyeshadow — accented with a halo of twinkling gems — is a true work of art. Like Bieber, she went for a very trendy flipped-hair look, albeit a longer version.
Emma Chamberlain
Between her sharp almond-shaped nails, choppy wolf cut, and glossy red lips, Emma Chamberlain introduces Coachella to her signature Gen Z aesthetic.
Alessandra Ambrosio
Using Unite Hair products, celebrity stylist Dimirtri Giannetos pulled Alessandra Ambrosio's pink- and blue-streaked waves up into a flowing half-ponytail. The rave-approved highlights just further the colorful hair trend for summer.
Becky G
Becky G showed off an even more low-key way to do the colorful highlights trend with the blue-accented braids encircling her hair. By braiding the color in with her naturally dark brunette hair, the rich denim-blue becomes much more subtle.
Lori Harvey
When you're on Lori Harvey's level, trends follow you — not the other way around. For her appearance at the Revolve party, Harvey stayed true to her signature "clean girl" look with thick braids, perfectly-arranged baby hairs, and glossy lips.
Saweetie
Saweetie had multiple standout looks through Weekend One, but her wild west-inspired getup and rainbow heart wig are next-level excellent.
Dixie D'Amelio
By adding black streaks through her platinum pixie cut, TikTok star Dixie D'Amelio puts a futuristic spin on the streak trend.
This article was originally published on