Gabrielle Union's Newest Look Proves It — Change Your Bangs, Change Your Life
Gotham/Getty Images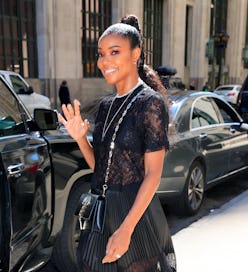 Ah, haircut season — the most wonderful time of the year. Something about peak fall and early winter is just begging for aesthetic reinvention, and a shoulder-skimming cut is a very celebrity-approved place to start. In fact, get even more specific with the inspiration and look right to Gabrielle Union's lob-curtain bangs combination. Just spotted at a star-studded dinner celebrating designer friend Ulla Johnson, Union's highly versatile hair length falls right in the sweet spot — she didn't have to commit to decidedly short hair, but it's still close-cropped enough to give her that fresh, revitalized feeling. While it feels like everyone in Hollywood is chopping 12-plus inches of hair in one sitting, Union's look is a reminder that subtle details can be just as powerful as one single dramatic move.
Union's silky style falls about an inch or so past her shoulders, her layers strategically styled to maximize bounce, movement, and shape. But so much of what really puts this look in a league of its own is the direction of her part and the placement of her face-framing fringe. Thanks to some clever beveling, her long curtain bangs seem even shorter, falling around her cheekbones and seamlessly blending in with the rest of her glossy, raven-black blowout. It's breezy, it's classic, and it's ideal for both more low-key family gatherings and high-profile work functions alike.
As is often the case, Union's incredible hairstyle is the work of celebrity pro Larry Sims, who even showed fans a behind-the-scenes clip of the actor-entrepreneur shaking her voluminous lob out after Sims works on it with his hot tools. It's here that the cut's true length can really be appreciated. Union got an ear-length micro-bob back in the spring, and already it's cascading down nearly over her shoulders.
Of course, that bouncy lob — and dress and brilliant coral blush, come to think of it — were in good company at the event, joined by fellow celebrities like Rachel Bilson, Dakota Fanning, and Cynthia Erivo. Based on the caliber of attendees, there's no wonder everyone went for such luxe, polished looks. Union, though, might just be the evening's MVP.