For Eva Longoria, Getting Glammed Up Is An Extension Of Her Free-Flowing Creativity
TZR speaks to the star straight from Paris Fashion Week.
Arnold Jerocki/Getty Images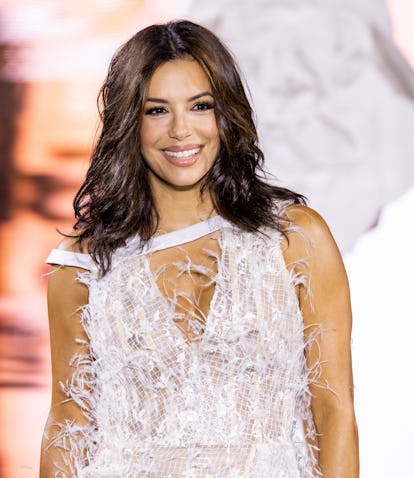 If Eva Longoria can keep up with the year's biggest beauty crazes, there's officially no excuse for anyone else — the mogul is busy-busy, but could probably start from scratch tomorrow as an anonymous content creator only to amass a million-person following by the end of the week. But Longoria's allure has always been wrapped up in so much more than her incredible sense of style and glamorous red carpet looks. Speaking to the star at Paris Fashion Week, where she's up early even on the weekends for runway presentations, high-profile meetings, and showing her sweet, young son the sites, it's the intention behind everything in her stuffed schedule that drives her.
Along with taking in the upcoming season's top trends and supporting her friends, Longoria's time in Paris was partially centered around one particularly major runway: Le Défilé L'Oréal Paris Walk Your Worth fashion show, a star-studded catwalk celebrating the power of strong, self-possessed women everywhere. Longoria and L'Oréal Paris have enjoyed a fruitful partnership since 2005, but nearly 20 years of collaboration and she still has the same zest for the company's mission of empowerment that she did upon first signing that contract.
Ahead, TZR talks with Longoria about her enduring relationship with L'Oréal, Paris Fashion Week, the TikTok trends she's been trying at home, and the Desperate Housewives-inspired reasoning behind all of her incredible manicures.
Her Pre-Glam Strategy
Virtually every move Longoria makes draws eyes and camera lenses alike, meaning her hair and makeup are always in the spotlight — especially for something as monumental as Paris Fashion Week. "It's definitely a conversation, a big collaboration," Longoria explains for the pre-glam planning process, one that often involves her hairstylist, makeup artist, clothing stylist, designers, manicurists and more. It's about deciding what story to tell, she says. "Is it going to be simplicity? Is it going to be bold? Is there going to be a color [we build around]?" There's so much thought that goes into the entire operation, but it's no sweat to Longoria who says she feels like a human Barbie in the glam chair. "It's so much fun and it's such an extension of my creativity," she shares.
Considering she's always so go-go-go, Longoria's mastered the art of on-the-fly beauty, too. Her L'Oreal Paris Volume-Building Mascara in Carbon Black is a non-negotiable always, she shares, right along with sunscreen. Even on otherwise totally makeup-free days, the mascara helps brighten her eyes, she explains.
The Beauty Trends She's Loving Right Now
If you've scrolled through any social media app in the past year, you've likely come across — and probably even saved — one of Longoria's excellent manicures. She's been ahead of the aesthetic curve plenty of times in the past, but her foresight when it comes to the all-consuming chrome nail trend is Nostradamus-level vision. "I am way into chrome," she says, a fan of the shimmery metallic finish for years now. She's tried every chrome color combination under the sun — rose pinks, silvers, golds, blues, and more — but there's a reason she's drawn to the bold look. "When I was on Desperate Housewives, it was 10 years of my life with nude nail polish," she says, explaining that going for colored nails would be too much to manage from a scene continuity standpoint and would have required her to get multiple polish changes per day. "The minute Desperate Housewives wrapped, I was like, I am only wearing color on my nails."
The other mega-viral trend that's got her in a grip right now? "I actually saw this on TikTok," she laughs, "it's Sofia Richie's bun!" Longoria says it's the hairstyle she's most loving at the moment, joking that she never felt like she had the right head shape for a tight bun until she came across Richie's tutorial video. She says she hasn't gone a day without it since, in large part thanks to how you can leave conditioner slicked into the bun as an extra reparative step. "It's crazy because it's just a bun, but I feel so beautiful with my hair pulled back and off my face, no makeup, just a lash and this hairstyle. It's changing my life," she laughs again.
Why She Stays True To L'Oréal & Herself
A star of Longoria's caliber could have a dozen different brand deals every other week — but she's been a high-profile partner with L'Oréal Paris since the Desperate Housewives days. The brand's mission, she explains, goes so much deeper than a skin-smoothing serum or a makeup product. "L'Oréal has been a brand that just stands for so much more and fights for so much more," she says, which extends to the Walk Your Worth fashion show. L'Oréal's legendary "Because you're worth it" tagline feels more like of a self-empowerment mantra than a kicky slogan. It encourages women to "know what your value is, applaud it, and celebrate it," Longoria says. From a personal standpoint, she says the brand is especially supportive of her projects outside of the entertainment industry, too. "They appreciate my activism, they recognize it, and they celebrate it — look at their ambassadors, they're outspoken women. And it's a beautiful, beautiful thing to watch."
It's a lesson Longoria's taken to heart, evident in the acting and producing projects she picks, like her latest film, Flamin' Hot. Pulling back the curtain on the real creator of Flamin' Hot Cheetos, it's a story that drew Longoria in immediately. As a Mexican-American woman, she could easily see herself in the shoes of her film's protagonist. "I've been told no, that job is not for you because you're a woman, or no ideas that come from people who look like you. I was like, 'Oh my gosh, I am the perfect match for this story.' Not only because I was Mexican-American, but I felt like this was very universal theme that I could explore and people would identify with."
On the runway and off, Longoria's mastered the art of walking the walk.