Eva Longoria's Newest Mani Looks Like Glittery Autumn Leaves Wrapped Around Her Cocktail
@evalongoria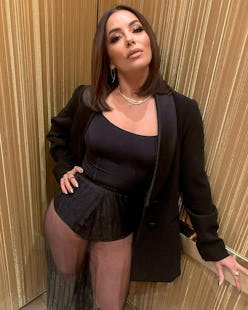 If there were ever a moment to be a fly on the wall, it's when Eva Longoria is choosing a new nail color — seriously, there needs to be a university-level seminar on her selection process and criteria because she so consistently goes for one knockout shade after another. There's a chance she's especially plugged in to the manicures of the moment, but it's more likely that she just has an eye for art and some killer instincts that lead her to the best options. And if her aesthetic abilities are ever doubted, just point the naysayer straight to Longoria's latest: fall chrome nails that fuse two of the autumn's forever-favorite hues, with an extra element that makes the manicure feel so now. Truly, she has a gift.
The new color extends her love for shimmery, pearlescent finishes, but introduces some overtly autumnal energy by incorporating a blend of rusty brown and rich purple — a shade many would call puce — all topped by an illuminating dusting of chrome powder. The glaze adds some overt glamour to the mani, which Longoria showed off as she mixed up cocktails with her Casa Del Sol tequila brand for fellow V.I.P.s at the Guadalajara Open tennis tournament in Mexico.
What really makes the manicure so alluring is the way the rusty brown and deep eggplant undertones all combine and converge to look different in every sort of lighting. In photos where Longoria's hands are directly lit-up, light when she was doing the pre-match coin toss, the nails look much more purple — in low light, though, they're a glittery bronze.
While it's not exactly clear which brand or polish she's wearing, let Longoria's look be the be-all-end of bespoke manicure shades. Rather than stick to a true, straightforward shade, she opted to get experimental and go for something no one else would have. And it worked — have you ever seen this exact color used before?
Something says Longoria will definitely be serving up even more fall beauty inspiration in the coming weeks, so be on the lookout for even more unique nail ideas. If anyone can keep the chrome trend alive into 2024, it's her.