Eva Longoria's Deconstructed Ballerina Bun Strikes The Ideal Edgy-Elegant Balance
@evalongoria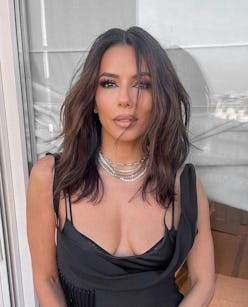 Even before the first model stepped onto the outdoor runway, the hype for the Jacquemus Le Chouchou fashion show was next-level. Whispers about who could be walking in or even just attending the event dominated the internet through the weekend, but the celebrities who did turn up on Monday afternoon in Versailles didn't let any of that pre-show excitement go to waste. Fitting with the collection's distinctly balletcore motifs, Eva Longoria's messy bun stood out even among the other A-list invitees. The high-hoisted, voluminous updo caries all the prim elegance of a classic dancer's style, but infuses it with a more casual, slightly edgy feel with its loose tendrils and intentionally imperfect (quote-unquote) bun. It also highlights an interesting divide — the slicked, "clean girl" buns of today, are just the artfully messy buns of the pizza-and-adulting era of say, 2012. Clearly, Longoria has chosen her team.
Considering the show took place outdoors on a cloudless June day, the effortlessly elegant hairstyle doubled as a way to keep Longoria cool and her sultry, feature-defining makeup looking fresh. Fashion hairstylist Armanno Walter created the romantic bun for the event, while Paris-based celebrity makeup artist Jordan Deal worked on her cosmetics and even showed off some behind-the-scene photos before Longoria stepped out for the day.
Paired with her lined lips, gently-winged eyeliner, and dangly Jacquemus earrings, the bun is a perfect choice. As she mingled with fellow stars like Victoria Beckham, Karol G, Emily Ratajkowski, and Gigi Hadid, Longoria looked legitimately luminous in the sunlight.
All spring and summer long, Longoria's been on an impressive hot streak of knockout hair-makeup combinations at the industry's most high-profile events — who could forget her sharp lob (later revealed to be a wig) from that Cannes party?
Though neither her makeup artist not hairstylist shared what products or brands went into making Longoria's fashion show look come to life, the photos shared are more than enough inspiration to get through the next few weeks — surely, she'll pop up again on the red carpet with more by then (and likely sooner, too).