April's Best Beauty Products Double As Your Festival Season Starter Pack
All you need for a sunny spring and beyond.
@haileybieber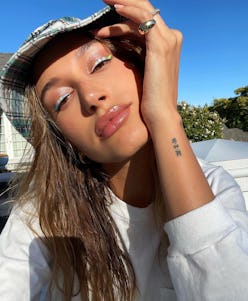 We may receive a portion of sales if you purchase a product through a link in this article.
Permission to party, granted. It's finally April and the thick of spring seems to have everyone in a great mood — of course, that could be partially thanks to festival season's impending arrival, and all the fun that comes with it. In fact, April 2023's best beauty products come equipped with everything necessary for both the most exciting and more mundane aspects of the month alike. Half feel geared specifically toward self-expression and fun-filled events, while the rest are targeted, efficient, and the beauty equivalent to a spring cleaning, head-to-toe. It's one of those rare months that truly seems to have something for everyone, no matter how extreme their personalities (case in point: bold face gems and 24K gold-infused serums coexist on this list).
This April, powerful yet usable cleansers for hair and skin are having a moment, focusing on user experience as much as the formulas. Brands like Renée Rouleau are reimagining fan-favorite products like cleansing balm, streamlining their dispersal and upgrading packaging. Meanwhile, endless shades of dewy liquid blush from Juvia's Place, eye-accenting sequins, and even a limited-edition Balmain hair accessory all feel so Coachella-ready. No matter your spring vibe, the very best new skin care, hair products, and makeup of April 2023 have you covered.
April 2023 Skin Care Launches
Best New Moisturizers
Best New Eye Cream
Best New Toner
Best New Skin Tool
Best New Vitamin C
Best New Cleanser
Best New Serum
Best New Peel
Best New SPFs
April 2023 Makeup Launches
Best New Eyeshadow Palette
Best New Primer
Best New Lipstick
Best New Concealer
Best New Blush
Best New Face Gems
April 2023 Hair Launches
Best New Texturizing Spray
Best New Leave-In Conditioner
Best New Purple Shampoo
Best New Set
Best New Wax
Best New Hair Gel
Best New Shampoo
April 2023 Body Care Launches
Best New Body Treatment
Best New Sunless Tanners
Best New Shaving Cream
Best New Body Art