Kendall Jenner's Caramel Coffee Highlights Are An It-Girl Summer Essential
Subtle shading, serious payoff.
@kendalljenner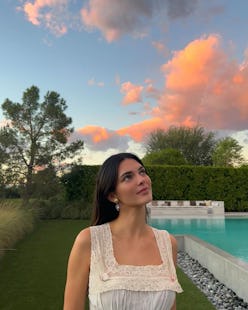 Thanks to just how versatile different highlight techniques can be, it's easy to forget their greatest strength: all the dimension they add to any base. Regardless of if it's a full head of foils or simply some subtle pops of contrasting colors carefully woven in, it's the blend of shades that makes highlights among the most popular hair services in the country. Kendall Jenner's own caramel highlights, spotted in some close-up shots from Coachella taken by younger sister, Kylie Jenner, just prove the impact of just a few low-key streaks. The gold-toned highlights break up Jenner's expensive brunette hair color, adding warmth and brightness around her face. But the best part of Jenner's highlights is just how carefully they're integrated — in this case, they required flash photography to truly be appreciated.
Jenner posted a zoomed-in shot of her face, live from Coachella's festival grounds, to her Instagram story on Monday, shared from Kylie's own account. In between mirror pics and a clip of Frank Ocean's now-viral performance, Jenner is seen wearing sunglasses and pouting her lips, ribbons of caramel highlights swooping down past her cheek. As a bonus, there's a little something for the gossipmongers, too — look closely and you'll notice what appears to be a man's hand resting atop her shoulder. A Bad Bunny cameo, perhaps?
Based on other recent photos and videos, it looks like Jenner's caramel highlights are relatively new — the timing is certainly on-point. Corresponding with increasing temperatures, highlights services spike ahead of summertime, mimicking the natural sun-lightening many experience after spending longs days outside. Together with her shades, glossy lips, and sunburn-simulating nose blush, Jenner certainly looks ready for summer. Interestingly, though, this might be her biggest hair color shakeup since she went copper for the Prada show at the start of 2022.
Jenner transitioned the copper into a lighter, warm-toned brunette through last spring, finally arriving back at her deep, glossy medium-brown by summer — only to darken it even further in time for winter 2022.
With a rumored new romance, a fresh hair color, and plenty of upcoming projects on the books, keep an eye on Jenner this summer — there's no telling what excitement she's cooking up (and pairing with tequila) next.