Celebrities Have Officially Hit Peak Halloween With Their Hair, Makeup, & Nails
@adele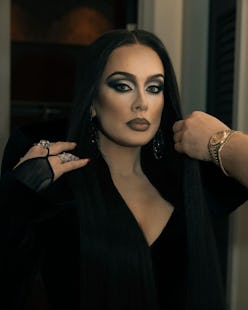 If you're a celebrity and your favorite holiday isn't Halloween, you might be doing that whole fame thing totally wrong. For the biggest stars, spooky season is a non-stop parade of elaborately-decorated parties, clever-cute (or scary-sexy) costumes, and some of the most involved glam this side of the Oscars. These days, half of them even hire in-house photographers and graphics teams to execute full-fledged photoshoots to properly immortalize their detailed looks — and judging by the best Halloween 2023 celebrity beauty moments seen so far, that's not a bad idea.
Year after year, celebrity Halloween gets increasingly high-profile. There are massive celebrations hosted by brands, clubs, and even the stars themselves. Parties thrown by Kendall Jenner, Megan Thee Stallion, and Cindy Crawford, First Lady of Casamigos Tequila, gave their fellow A-listers plenty of reasons to get all dressed up. Really, celebrity costumes fall into three camps: there are the stars who went all-in on good-natured gore, like Megan Fox's bloody Kill Bill tribute; those who love a clever reference moment like Zoë Kravitz's brilliant Mia Farrow "haircut"; and the rest just want to have fun experimenting with hair, makeup, and outfits — see Ice Spice's adorable Betty Boop getup.
Check out all the best celebrity beauty moments from Halloweekend 2023.
Kylie Jenner
Channeling their distinct and seemingly opposite personalities into a duo costume, Kendall Jenner dressed up as the sweet, innocent personification of sugar, while sister Kylie leaned into her edgy side as spice. With her spiked collar choker, red-streaked beehive, and rhinestones lining her brow to look like piercings, her Halloween look is impossibly cool.
Mariah Carey
Carey's love for the Mean Girls franchise can't be oversold — remember how many references she'd drop while judging American Idol? A Regina George homage is the second Halloween costume on her roster this year, unveiled after a sultry Jessica Rabbit look. Here, she donned a wig once again, this time in a bright, buttery blonde.
Lori Harvey
Lara Croft? More like Lori Croft — the star's sporty Tomb Raider costume called for tons of glistening highlighter, her signature lip liner, and a long bubble braid with plenty of face-framing pieces pulled out to heighten the action-adventure feel, like she's just been sprinting through some ancient ruins.
Jennifer Lopez
When Lopez shared this look at her devil costume in a tutorial for a matching cocktail with her Delola line, everyone was surprised — even her hair was tucked up in the lamé hood. But the strong lashes, upturned eyeliner, and long, nude nails that are showing are all excellent.
Ariana Grande
Grande made a point to show off her love of face gems when she wore a cute cat costume earlier this month, but who knew she had another, even more elaborate rhinestone-studded look up her sleeve? The night before Halloween, Grande debuted a new costume, Nomi from Showgirls, alongside bestie Liz Gillies. Not only are her lower lash lines fully trimmed in jewels, but she recreated the character's glittery hair streaks, too.
Kerry Washington
Washington loves a pun, and this one is perfect. For her ShaCarri Richardson costume — dubbed the "ShaKerry" — she traded in her glossy raven-black hair for the trackstar's signature fiery shade. Always zeroed in on the details, Washington even recreated her tattoos and long, detailed manicure.
Kourtney Kardashian
Even if you guessed that Kardashian and husband Travis Barker were going to do Beetlejuice and Lydia as a couple's costume, the real-life execution is just incredible. Kardashian's choppy, feathery beehive, including her fluttery fringe, makes her look just like Winona Ryder in the 1988 movie.
Kaia Gerber
Another couple to knock it out of the park with a duo look? Gerber and her boyfriend, Austin Butler. Dressed up as Andy Warhol and his consummate muse, Edie Sedgwick, the pair looks even cooler than usual — especially Gerber's '60s mod makeup.
Christina Aguilera
Playing homage to friend, mentor, and Burlesque co-star Cher, it's safe to say that Aguilera won the celebrity costume game this year — if shared out of context, you'd think she really was Cher at first glance. Aguilera specifically honed in on late-'80s Cher, straight from the "If I Could Turn Back Time" video, which required massive curls, a leather body suit, and sultry cool-toned eye makeup.
Billie Eilish
Proving once again that there isn't a hair color under the sun that wouldn't suit her, Eilish's cowgirl costume comes complete with a lifelike strawberry blonde wig that covers up her own neon red-accented layers.
Kendall Jenner
With many celebrities attended Jenner's birthday bash, she had to up the ante with an incredible look of her own. She followed in sister Kim Kardashian's footsteps with another homage to Marilyn Monroe, complete with her signature platinum curls and sultry cat-eye makeup.
Rosalía
Major points to Rosalía for nailing one of the most iconic red carpet moments of all-time, but she gets even more props for just how true-to-life the entire costume really is. She perfectly recreated Björk's entire 2001 Oscars look, including her shoes and the exact length and placement of her side-parted bangs.
Natalia Bryant
And speaking of swans — it doesn't get sweeter than Bryant's Swan Queen costume. The double-winged eyeliner is both true to Natalie Portman's Black Swan movie and extremely trendy on its own. In fact, her slicked-back ballerina bun is too.
Hailey Bieber
Leave it to Bieber to showcase three distinct Halloween costumes this weekend — four total if you're counting the entire month — but her Flintstones look is the coolest. Her ultra-shiny highlighter goes brilliantly with her latex outfit, and her teal nails are an exact match for Pebbles' signature skirt.
Florence Pugh
Behold, the new queen of Flavortown. Pugh played off her Cooking With Flo chef skills, her Guy Fieri costume is both a hilarious and adorable tribute to the Food Network legend himself — especially with her stick-on platinum soul patch.
Adele
One look at Adele's vampy Morticia Addams costume is enough to make it clear: she was born for the ultra-dramatic, glam-goth aesthetic. Between her "bloody" nail tips and inky black wig, she looks like a whole new Adele. In fact, some fans are even clamoring for a album sound to match this fresh vibe.
Halle Bailey
You know a costume is truly great when the person it's based on gives you their co-sign. Janet Jackson had high praise for Bailey's Poetic Justice look, which centers on the iconic box braids Jackson wore in the acclaimed film.
Megan Fox
Few stars love Halloween as much as Fox, so it makes sense that she'd unveil two distinct costumes, though they're both an equal mix of sexy-scary. Along with her Death Note look, her Kill Bill homage totally nails Gogo's death scene look.
Megan Thee Stallion
Megan Thee Stallion's reputation as a Halloween Queen went into overdrive thanks to her Tim Burton-themed Hottieween celebration. True to form, she went all-in on an ultra-elaborate flower costume that looks straight out of Wonderland.
Jessica Alba
Halloween fell just days after Britney Spears released her tell-all memoir, making her a popular tribute this year. A few different celebrities wore iconic Spears looks, but Alba's long, platinum wig and rhinestone-covered body suit from the "Toxic" video is undeniably excellent.
Ice Spice
Fans knew Ice Spice's Halloween costume would likely hinge on her signature curls, but who expected a look this perfectly suited to her playful personality? Trading in her lush ginger-red for an inky black, her Betty Boop ringlets are just adorable.
Margot Robbie
A black Cleopatra-cut wig and Guy Fawkes mask are essentially the polar opposite of this year's incredibly popular Barbie costume — which is probably why Robbie chose it. While her face is fully obscured, that lob and bangs combination — not to mention the shiny raven color — are pretty cool on their own.
Zoë Kravitz
The ideal balance of funny, sweet, and smart, Kravitz teamed up with beau Channing Tatum for their take on a Rosemary's Baby couple's costume. It must be said, though: Kravitz's Mia Farrow-inspired blonde wig actually look really cool on her — could a real-life change be in the works?
Cindy Crawford
Crawford is one of the most underrated Halloween stars out there. Her husband's tequila brand throws a legendarily star-studded party every year and she always delivers — especially with this Bad Sandy costume, complete with fluffy '50s ringlets and a bold scarlet lipstick.