Hailey Bieber's First Halloween Look Of The Year Perfectly Balances Scary & Sexy
Off to an excellent start.
@haileybieber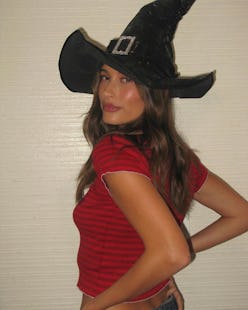 The effort of coming up with a Halloween costume that's esoteric enough to feel unique but still recognizable enough for parties is, in a word, exhausting. No matter how many videos float across your FYP promising ingenious ideas for "blonde and brunette bestie duos!", the pressure's enough to make you just bag it all and bust out the cat ears yet again. But there is an alternative, one that's already endorsed by major tastemaker. Hailey Bieber's vampire makeup and sultry updo make a simple and classic Halloween costume feel so fresh and distinctly her. Her vintage red-and-black corset and lacy thigh-highs help sell the look, of course, but it's the brilliant spooky season beauty choices that truly makes it special.
Bieber shared a shot of her glamorous vampire — glampire? — costume, her first of the year, on Instagram, but buried it deep in a photo dump. From the other images included, it seems like Bieber and her husband threw a gothic Halloween dinner party at their house, complete with creepy-chic candlelight and swarms of cut-out bats climbing all the way to their vaulted ceiling. Every element of Bieber's vampire look appears meticulously selected, from the red-toned brown eyeshadow rimming her lower lash line to the pile of loose curls spilling from her tousled updo. Of course, the main attraction is her bright red lipstick and the trail of faux blood trickling down the the side of her mouth, dripping all the way to her three-strand pearl choker.
Many consider wardrobe the most crucial part of a costume, but there's an argument to be made that Halloween is simply a makeup-first holiday. Sure, there are some ideas that require a specific outfit, but when it comes to the classics, it's all in the face. Bieber's vampire look is stunning in her corset, but would easily translate with any clothing as long as she kept the makeup.
It's similar to the strategy employed by Ariana Grande, who spiced up her black cat costume with a smattering of silvery face gems. Anyone can throw on some ears or a witch hat, but makeup is an easy way to add a personal touch.
Now remember — this is only Bieber's first costume of the year and Halloween is still over a week away. Considering she cycled through at least four different looks last year, prepare for her day-of dress-up to be especially elaborate.