Ariana Grande Cracked The Code To Making 'Basic' Halloween Costumes Feel So Original
@arianagrande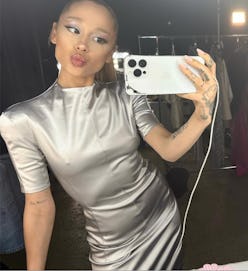 We may receive a portion of sales if you purchase a product through a link in this article.
Ariana Grande would likely be the first to admit it — she's a theater kid through and through, which means she already has an inherent affinity for curated wardrobes, over-the-top makeup, and themed events in general. That love of showmanship and production runs deep, and it's never more apparent than when the star is gearing up for Halloween. For her 2023 cat costume, Grande used face gems to spice up her go-to winged eyeliner and, in the process, reminded everyone of just how versatile wearable rhinestones are in general. This latest bedazzled look might not be as elaborate as those from Halloweens past, but it is both adorable and extremely easy to recreate at home.
Though she plays things pretty close to the vest on social media these days, the Sweetener singer will always make time for some Halloween posting. At a holiday party also attended by her brother, she stuck to simple, shimmery tones all-over but drew on oversized, arching eyeliner just above her crease, dotting it with tiny silver crystals from her inner corners to the outer wing. If you're still brainstorming your look for the 31st, take a page out of Grande's book and consider spicing up your own aesthetic signatures with glitter, gems, or out-of-the-box colors.
As the founder of her r.e.m. beauty makeup line, Grande's been showing off expert-level eyeliner looks for a few years now. But no matter if she's doing a retro-esque graphic wing or sticking to something more traditional, you can bet that it will come equipped with a tiny cat-style flick at the end for lift — and it's a natural no-brainer for this year's feline-inspired costume, of course.
Overall, Grande makes a great point about fresh ways to dress up even the simplest Halloween costumes. Cat ears are as straightforward as it gets (she's so real for that one), but the makeup and her fluffy pink dress make the look feel more personal and original.
To make it especially easy, just grab skin-safe rhinestone in a color palette that matches your outfit and outline your eyes with them — you can even dot just a few on for a more low-key sparkle. In fact, for those who struggle with eye makeup in general, you can buy adhesive liner stickers, many are complete with face gems pre-attached. There's officially no excuse to not participate in the spooky season fun. If Grammy-winning popstars on strict movie-filming schedules can do it, anyone can.
Shop skin-friendly face gems and Halloween-ready eyeliner patches just below.