Cameron Diaz's Bright Raspberry Lipstick Is The Coolest Alternative To Red
Albert L. Ortega/Getty Images Entertainment/Getty Images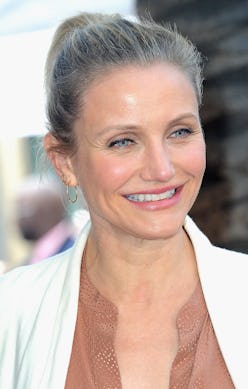 The day Cameron Diaz announced her retirement from acting, the world and red carpets everywhere mourned together. Beloved over the decades for her singular spirit and sense of style, the movie star has kept a pretty low profile through the past few years — but a new sighting indicates Diaz hasn't even remotely lost her aesthetic touch, looking fantastic as ever in the VIP section of Taylor Swift's Eras Tour show. There in the crowd, Diaz's hot pink lipstick was notable even among her fellow celebrity attendees, the perfect finishing touch to her themed ensemble.
In a prime seating section with excellent stage-facing vantage points, Diaz was joined by friends A-list buddies Tiffany Haddish, Zoe Saldaña, and Elsa Collins, that latter of whom uploaded a sweet shot of the four to her Instagram account. Clearly a dedicated Lover stan, Diaz paired a candy-pink button-down shirt with the bright, raspberry-toned lipstick. A fun alternative to a classic red, the warm pink color is in line with her overall outfit color palette, but is rich enough for some stand-out contrast. Diaz kept the rest of her look relatively relaxed, with otherwise minimal makeup and signature her blonde lob set in a deep side-part.
On the whole, catching sight of Diaz out and about these days is pretty rare. She told Goop back in 2020 that she stepped away from the spotlight to concentrate on her day-to-day life, including raising the daughter she shares with husband Benji Madden. "[I] decided to stop making movies and really focus on my personal life, my personal relationships, my family, my friends," she explained. Though she briefly resurrected her iconic career for a movie in 2022, it looks like she's back to taking a break.
Diaz's appearance more than a little fanfare both in-person at the show and on social media, where a clip of her asking about the song "No Body, No Crime" is already showing early signs of virality. The Eras Tour's Los Angeles dates have been a hotbed for A-list sightings — along with Diaz's glam group, concertgoers also spotted Selena Gomez, Emma Stone, Laura Dern, Courteney Cox, and Mariska Hargitay (among others) at the Tuesday night show, most of whom also leaned into the fun with themed hairstyles, outfits, and makeup to match.
Her decision to take an indefinite hiatus is completely personal and more than a little respectable, but when Diaz's casual looks are this good, you can't but wish for just a few more award show moments — she always stuns.