Your Taylor Swift Concert Outfit Is Incomplete Without Some Eras-Themed Nail Art
Are you more Fearless or Folklore?
@taylorswift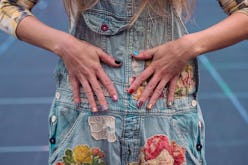 Forget your zodiac sign — what Taylor Swift album era are you in right now? The answer is always so revealing, which explains the dedication and fervor fans are putting into their themed ensembles at her global Eras Tour. If you haven't witnessed the spectacle in person yet, just imagine 70,000 people of every age and gender absolutely covered in colorful glitter. But no custom costume is complete without the perfect matching manicure. Taylor Swift Eras Tour nail ideas have become such a thing, many local salons and artists are specifically advertising different designs for the show to attract even more customers. And really, you can thank Swift herself for kicking the craze off.
Before the first show date in late March, Swift displayed her DIY skills on Instagram, showing off a distinct color and design on each of her nails, all of which correspond with her 10 different albums. Most fingers just feature a standout polish shade, but two nails — one for latest release Midnights, and one for the Joe Alwyn-inspired Lover — have tiny jewels affixed on them, too. And just as Swift infuses everything she does, manicure included, with hidden meanings, your Eras Tour nail art can, too.
Ahead, explore both maximalist and more subtle design options for each of Swift's album eras, perfect for pairing with your concert look.
Reputation Nails
For a Reputation-themed look, there are two totally different routes you can take. Go for something deep, dark, and moody in-line with this era's singles, or embrace the album's sweet, romantic center.
Snakes are, of course, the era's signature motif, so consider playing tribute with a tiny red Gucci snake or a similar serpent. Ask your nail artist for a hand-painted look, or lay down a squiggly nail sticker and lock it in with clear polish.
So much of the Reputation fun, though, is the tender romance the more bombastic tracks belie. Some delicate florals — like these very fitting daisies — peeking through a darker color aptly symbolize the entire album.
Speak Now Nails
With the release of Speak Now (Taylor's Version), expect to see plenty of people dressed up in purple at all subsequent Eras Tour dates. The storybook-themed whimsy of the album makes it ideal for stars, sparkles, clouds, medieval dragons, and cloud designs.
The marbled effect of these purple nails look like a bottle of Wonderstruck perfume dumped out (a compliment) and are actually pretty easy to recreate by swirling polish around with a toothpick.
On the other hand (possibly literally), what beats an explosion of glossy glitter? This manicure features a different shade of purple on each hand to make the ultimate Speak Now color palette.
Midnights Nails
As the newest era in Swift's rapidly expanding collection, the Midnights aesthetic is all about moody shades of blue — unless you go for a hazard-orange polish in a wink to "Karma."
Aura manicures are already such a beloved nail art trend, so consider using them as a springboard for your Midnights costume look. The hazy, airbrushed clouds are legitimately mesmerizing to stare at.
But what's more Midnights than neon stars? Night skies play a recurring role in the album and its dedicated segment of the concert, making these electric stars a wise choice.
Debut Nails
Oldheads know Swift's self-titled debut album will finally get the respect it deserves when re-issued as a Taylor's Version, which makes the era rife with costume opportunity — speaking from experience.
Embrace the youthful, Centennial Park-green tones of the era with a swirly blend of grass-colored polishes for a more monochrome, instantly-recognizable feel.
A more minimalist but no less on-theme take is a simple French manicure interlaced with growing, flowered vines — the bucolic beauty feels so extremely Nashville.
Folklore & Evermore Nails
Cottagecore-everything fits right in with both Folklore and its sister era, Evermore, and a cozy collection of monochrome polishes from the same color family are an easy way to incorporate the aesthetic.
These iridescent, earthy nails match Folklore's official grayscale color palette and sad, summery lyrics feel, like shimmering river stones.
Evermore is represented by the color brown in Swift lore, but that can include every possible shade, from the faintest taupe to a rich, dark coffee.
Fearless Nails
Always a fan favorite for tour outfits, the Fearless era is all about glimmering golds and gilded metallic finishes.
Even if you couldn't score show tickets, bookmark these trippy French tips. The opulent glazed metallics make them look truly dipped in gold.
These dazzling gold constellations actually were created for an Eras Tour look, and it's easy to see why. They feature all the shimmer, shapes, and fun feelings of true nail art, but the glossy nude nail beds are extremely versatile.
Red Nails
Sure, you could just paint your nails a true cherry for your Red era costume — but how fun is that really? The bold color and overt album themes mean there are so many design options to pick from here.
Chillhouse's checkered press-ons make Red-themed nail easy — plus, is there anything more on-brand for the album than a handful of actual red flags?
You can't discuss nail art ideas for this album without suggesting some flame designs — it's right there in the titular track. These look especially cool layered over traditional French tips with tiny little hearts embedded in the fire.
1989 Nails
Perma-summer soundtrack, 1989, is known for the gauzy seagulls silk-screened across Swift's shirt in the Polaroid album cover, and as such, has always had a beach-y reputation. Lean all the way into it or go streamlined with a simple, soft blue polish color.
The soft ombré effect of these beach-themed nails simulate the look of a receding Rhode Island sea shore, while the tiny speckles of shell beads are too cute to resist.
Abstract nail art in the album's trademark colors, like the funky blue squiggles, capture the album's '80s influences and lyrical themes.
Lover Nails
By far the most common costume theme, Lover is perhaps over-represented at Swift's shows, but that's likely because it's just so easy to pull off. Any shade of pink, any shape of heart, and a quick glitter glaze — instant Lover.
If your tour look is on the more elaborate end, keep your manicure straightforward but sleek with every imaginable type of pink split between each nail. FYI, OPI's Barbie collaboration just dropped and the timing couldn't be better.
For all the Lover era maximalism, take a page out of Swift's book and decorate your nails with some pink hearts. Even after a romance has long faded, a grid post of your sweet nail art is forever.