Nicole Kidman's Long, Date-Night Waves Are Sultry & A Little Unexpected
She's ready for Speak Now TV.
Jason Kempin/Getty Images Entertainment/Getty Images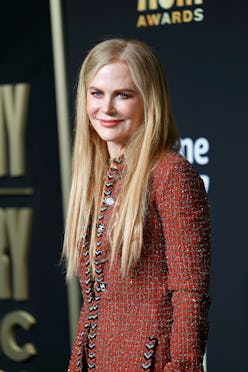 Attending a Taylor Swift concert is a little like an NBA playoff game — you're bound to bump into more than a few celebrities in the crowd, and they're always among the A-list. At Swift's tour stop in Philadelphia, though, the guest list was particularly stacked, looking more like an awards show than anything else. With dark sunglasses and voluminous wavy hair, Nicole Kidman set the tone in the VIP tent, where she'd be eventually joined by Jennifer Lawrence, Gigi Hadid, Blake Lively and her family. But even among the constellation's worth of stars at The Eras Tour, Kidman and her long mermaid waves pulled focus.
Kidman was an early arrival to the show, trailing just behind husband Keith Urban and waving to fans as they made their way to their designated seats — positioned at an excellent vantage point, naturally. Kidman's hair looked beachy and air-dried, falling well past her shoulders in a lush tangle of waves so tight, they border on full-fledged curls. Of course, that's just the actor's natural hair type. Though her hair has naturally straightened out a bit over the years (so has Swift's, which she's publicly lamented), Kidman's born-with-it curls were her aesthetic trademark through much of the '90s.
These days, it's relatively rare to catch Kidman with her curls loose and flowing on the red carpet — she seems to prefer sultry blowouts, like at the Oscars in March and the Met Gala earlier this month — but it does happen on occasion. Funnily enough, it's often when she's around Swift, like at the 2021 Rock & Roll Hall Of Fame induction ceremony alongside Carole King.
Kidman's experimented with plenty of different hairstyles and colors over the years, but her curly texture is an enduring through-tread linking them all. She might be into straight, elbow-length extensions right now, but no awards season is complete without at least one waves or curls sighting.
Of course, her tight waves at the concert could just be her way of gearing up for Speak Now (Taylor's Version) — nostalgia's a powerful thing.