Just *Looking* At Selena Gomez's Birthday Party Glam Will Give You FOMO
@hungvanngo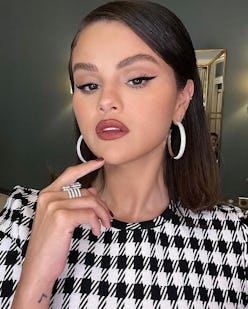 Pretty much everything you need to know about Selena Gomez is revealed by her birthday. Born on July 22, the day one zodiac sign transitions into another, Gomez is a blend of sensitive, artistic Cancer and fiery, spotlight-loving Leo — it makes sense, then, that the blowout party for her 31st would perfectly embody both. Photos from the big bash show an S-shaped cake and all closest friends all in attendance (crucial for any Cancer), while Gomez's cat-eye birthday makeup and scarlet-red mini-dress were intense, high-glamour, and oh so Leo. In other words, it might have been the perfect celebration — Gomez could have charged an entry fee and A-listers still would have arrived in droves.
If you thought Gomez's 30th birthday party was one for the books, she managed to outdo herself this year with a fun, undeniably sexy hair-makeup-outfit combination and the Malibu mansion she turned into a makeshift nightclub. Joined by celebrity besties like Paris Hilton, Nicola Peltz Beckham, Christina Aguilera, Karol G, and Saweetie, the celebration raged well into the night. But even among all that luxury, it's Gomez's own look that's really the standout of the entire event. Leaning into a Y2K prom-inspired updo with plenty of texture and deep-parted bangs, her hair frames the dark, smoky, cat-eye liner, and glossy lip color just below.
Celebrity hairstylist Marissa Marino constructed the intricate, high-piled updo, sharing a Gomez-shot selfie so hot that fans were begging her to tell the star to post it in-feed. Meanwhile, those fluttery lashes and laser-precise lip lining came courtesy of celebrity makeup artist Jenna Nicole. Considering Gomez's Rare Beauty brand was also tagged, it's safe to say she's wearing more than a few of her own best-sellers.
To cap the look off, celebrity manicurist Tom Bachik gave Gomez a set of candy-pink nails — which made much more sense with she revealed that her besties spent the next day at a private Barbie screening, complete with matching fuchsia ensembles.
Compared to Gomez's 30th birthday, it actually seems like she upped the ante. While last year's event was a sophisticated soiree complete with black-and-white guest portraits and elegant, black-tie gowns, her 31st is all about maximum fun. Really, it's just proof that Gomez only gets better with every passing year.