Beyoncé's Had More Legendary Hair Moments In A Year Than Some Do In A Lifetime
@beyonce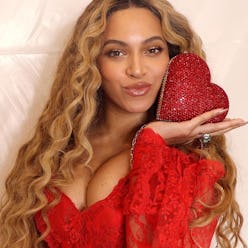 Stars don't come much bigger than the Queen Bey. Topping the charts and scoring years of critical acclaim is one thing, but how many other musicians have even a fraction of her cultural impact? Musically, Beyoncé is a tour de force. Socially and aesthetically, she's in another stratosphere. There's a lot to admire about the A-lister, and her always-flawless hair can't help but make the list. Just take a look at the fervor dedicated to planning a Renaissance Tour costume and it all makes sense.
Beyoncé's most iconic hair moments are as varied (and high-profile) as it gets. By keeping her personal life largely private, she makes any glimpse into her world, be it via Instagram or an IRL sighting, into a once-in-a-lifetime experience. And when she shows up at an awards show or other industry event? Get ready for something extra special. By never committing to just one look, she can flit between Old Hollywood glamour, the trends of today, and all sorts of bespoke, made-just-for-her hairstyles that celebrate everything from her latest business ventures to her rich heritage. It's the sort of creative approach that makes sense for a star who grew up helping out at her mother's salon — and why she's about to launch a hair care brand of her own.
Below, explore an ever-growing list of Beyoncé's most legendary hair moments.
Her First Grammy Awards Look
You can't talk about Beyoncé's best hair moments without reaching way back into the time capsule to see where it all began. Shedding their young Girl's Tyme image for a more mature, new millennium-friendly look, Destiny Child's first Grammy Awards in 1999 set the tone for everything to come. Already, Beyoncé is developing her signature personal style with warm, honey-brown highlights and the flipped-out volume she still loves today.
Her Half-Up Beyhive
If you graduated high school any time between the years of 2003-2013, you know this photo already — how many issues of Teen People, Seventeen, and Cosmo Girl did this look make it into? Beyoncé's always loved a half-up hairstyle, but this teased beehive from TRL — shot the year she went solo with Dangerously In Love — will forever be among the most iconic.
Sasha Fierce Sleek
The I Am...Sasha Fierce era brought out a whole new side of Beyoncé — literally, in fact. Her alter ego, the titular Sasha, was all about sleek, sultry hair moments, including this flat-ironed look from the 2010 Grammys. The best part, though, is the gold hair tinsel woven through her highlights for added sparkle and fun.
Her Sharp Wedge Bob
Beyonce's shoulder-length bob was the star of her 2014 album cycle, popping up in paparazzi photos, the "Drunk In Love" video, and that year's Grammy Awards. Inspired by the award-winning music video and classic 1920's film stars, celebrity hairstylist Kim Kimble created both the dry version of this bob for the red carpet, and a rain-soaked wet iteration for her performance at the show.
Her Towering Met Gala Ponytail
Beyoncé's Met Gala hairstyles are reliably excellent, treated like an extension of her bold gown choices and the theme itself. For maximum drama in 2015, she paired her jewel-encrusted slip with a sky-high, cylindrically curled ponytail. It was was basically Bey's favorite accessory of the night, framing her face in every photo.
The "Formation" Braids
Her Grammy-winning Lemonade visual album kicked off in spectacular fashion with lead single "Formation", a tribute to her Black southern roots so powerful that Rolling Stone named it the greatest music video of all time. She wears a number of notable hairstyles throughout the short film, but the long, blonde-streaked braids she wears in one scene are particularly memorable.
The Ivy Park Beads
Forget a billboard on Sunset — Beyoncé's hair is the best advertisement real estate around. To kick off a new Ivy Park drop in 2019, she had outfit-matching cream and maroon braids spell out her best-selling brand right there in her braids.
Her Bantu Knot Ankh
Beyoncé's entire Black Is King film is filled into subtle, intricate nods to every aspect of her heritage. One of the most commanding, breathtaking looks of all was the braided Bantu Knot twisted into an ankh by celebrity hairstylist Neal Farinah. It's a work of art in every sense.
French-Girl Curtain Bangs
Do you think Beyoncé ever has bad bangs days? Agreed — definitely not. Her Tiffany & Co. partnership meant all sorts of glamorous self-shot photo sets posted to Instagram, including this French-girl curtain bangs look on a yacht. Wispy, feather-light, and expertly blended, they're a sweet switch-up from her usual styles.
Her Latest Grammy Awards Look
Fast-forward nearly 25 years from her first appearance at the event — not only does Beyoncé have a whopping 29 Grammys to her name, but she's still killing it on the red carpet. For the 2023 awards show, she went for the ripply, natural-looking mermaid waves that absolutely glowed under the stage lights.
Her New 'Crème Brûlée' Hair Color
Even in the Destiny's Child days, Beyoncé's always loved a fresh golden-blonde hair tone through her hair — and her latest shade is absolutely delicious. Together with celebrity colorist Rita Hazan, she went for a creamier, lighter look that built off of her previous color for damage-free lift. "She wanted to go even lighter than she was since it's the height of summer and her tour and she loves to switch up her color and style," Hazan told TZR earlier this year.