There's A Reason Celebrities Keep Wearing Bantu Knots For Big Red Carpet Moments
@rio_hair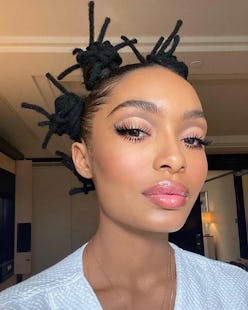 Even in the world of chic protective hairstyles, Bantu Knots stand out as something special. Sometimes referred to as Zulu Knots or Nubian Knots, the sky is pretty much the limit when it comes to height, placement, color, shape, and style — which is probably why so many stars choose it for the red carpets and media moments that matter the most. When Rihanna unveiled the artwork for Anti, she arrived at her event wearing a half-head Bantu Knots, with gentle curls just below them. When Beyoncé debuted Black Is King, her award-winning tribute to her heritage, the film came complete with a tall, sculptural iteration that immortalized the style on-screen. Even in their more casual forms, the intricacy and highly customizable nature of Bantu Knots make them wildly popular in Hollywood and beyond.
Thanks to just how easy Bantu Knots are to DIY, you can try virtually every celebrity-approved style at home once inspiration strikes. Stylist and natural hair care professional Erinn Courtney previously told TZR that around four to five inches of natural growth is all that's required. Ahead, get the creativity flowing with some varied takes on Bantu Knots straight from celebrities — there's enough to take you through this time next year at least.
Rihanna
Putting aside the harsh reality that Anti was released a full seven years ago, Rihanna knew her big album art reveal would become a major component of the project's rollout and, as such, a defining image of her career. For the occasion, she twisted just the top portion of her cinnamon-toned hair into a cluster of short Bantu Knots, allowing the rest of her curls to loosely fall past her shoulders.
Tracee Ellis Ross
This set of Bantu Knots is particularly sleek and chic, but that kind of sums up Ross' entire style philosophy in the first place. She's tried plenty different types of knots over the years, but this slicked-down, ultra-glossy version is as classic as it gets.
Yara Shahidi
Shahidi is another star with a documented love for Bantu Knots, but this Rio Sreedharan-styled look deserves some special acknowledgement. The attached locs add so much dynamic shape and texture, while the perfectly-arranged spikes create a halo effect.
Issa Rae
Part of the beauty of Bantu Knots is that coils can be created with any type or texture of hair. Rae paired her pale pink sequins with braided Bantu Knots, adding another layer of intricacy to her red carpet look.
Lizzo
Several elements of Lizzo's sun-soaked selfie must be noted here: the jewel-studded Gucci barrettes, her curled baby hairs, the red tones in her hair, and the braided nature of her Bantu Knots as a whole. Next to her gold French manicure and matte coral blush, the overall warmth is so stunning.
Zoë Kravitz
Kravitz had her hair straightened when they were twisted up into wisp-accented Bantu Knots, proving their textural versatility once again. A more low-key, casual take on the style, they seal the deal on her signature cool-girl style.
Halle Berry
Bantu Knots have been celebrity-beloved for years, and this late-'90s look from Berry proves it. Her brown lipstick-liner combo would be deliciously of-the-decade on its own, but paired with her cornrows that end in tiny Bantu Knots? Retro excellence.
Beyoncé
Hairstylist Neal Farinah painstakingly planned and crafted Beyoncé's Black Is King hairstyles to reflect every aspect of African heritage. For her Bantu Knot-centric look, he even shaped her center topknot into an ankh symbol.
Jodie Turner-Smith
Half-up, half-down hairstyles are always an ideal compromise, and Turner-Smith's ombré locs Bantu Knots prove it once again. Piling each bun high to really show off the gradient nature of the hair color, they arc over the head in a crown-like row.