Ariana Grande Channeled Her Beloved Broadway Divas With An Extreme Makeup Combo
She's a stage-ready siren.
@arianagrande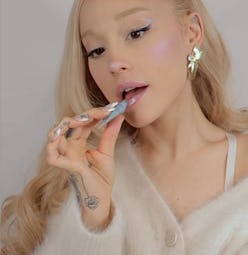 Ariana Grande is a thoroughly modern woman, but to know her is to understand her obsession with the screen and stage stars of yesteryear. It makes sense — the pint-sized singer with a powerhouse voice first got her start on Broadway, and she seems committed to returning to form. In between wrapping up the final few scenes for the film adaptation of Wicked, she's been spotted attending different high-profile shows with reported beau Ethan Slater. In fact, when Grande and her red lipstick hit the town on Nov. 16, it was to go see the opening performance of Spamalot's new revival run — starring Slater himself. Dressed for a evening at the theater in a long black gown, lacy opera gloves, and a glossy shade of nearly neon red lipstick, Grande's look is a true 180 from her usual aesthetic.
Typically, the singer-makeup mogul seems to prefer softer shades with touches of holographic sparkle, but in a dramatic, swooping cat eye and that bold lip shade, she looks more like her beloved Broadway divas. Of course, she didn't stray too far from her signatures — though still blonde for her Wicked role, Grande's hair was pulled back into her trademark high ponytail.
DAMEBK/Bauer-Griffin/Getty Images
DAMEBK/Bauer-Griffin/Getty Images
Despite its timeless appeal, Grande's only worn red lipstick a handful of times over her entire career. In fact, this cherry-red, glossy shade is the boldest, brightest color she's worn in years. Some photo research reveals her last public sighting in the shade was way back in 2016.
To get Grande's glossy, glazed-cherry lip look, it's all about the shade and finish. Look for an electric red with a violet-pink undertone, and make sure it's a packed with tons of shine. It's often easier to slick on a satin-y lipliner-lipstick combination first to nail the outline without worrying about the color migrating, then a gloss can be layered right over top.
Grande sweetly stuck around to sign autographs for lingering fans before linking back up with Slater, who is also co-starring in the Wicked film alongside Cynthia Erivo and Michelle Yeoh — and fun fact, it was Yeoh herself who was the first to post a picture of the pair together on social media. Only time will tell how that relationship unfolds, but it seems like it's already pushing Grande to get a little experimental.