Ariana Grande's Honesty About Her Botox & Filler Use Is Rewriting The Rules Of Celebrity Aesthetics
The star gets real while getting ready.
@arianagrande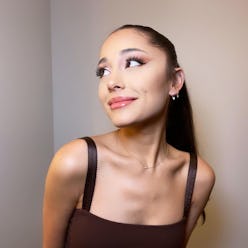 One of the most interesting elements of the social media revolution involves celebrities. The ability to simply switch on one's front-facing camera and talk directly to millions of fans is still relatively new and as such, is rewriting the rules of stardom in real time. Many use candid moments to open up about their real lives, day-to-day-routines, and artistry — but oftentimes, they'll include some insight that's more than a little emotionally revealing. Though her Vogue Beauty Secrets taping was originally just to discuss her favorite products and makeup techniques, candid conversation around Ariana Grande's botox and filler use is what's especially notable — and remarkably refreshing — about the video.
Referring to the frank discussion on her injectables as a "little therapy session," Grande reveals that she quit using them cold-turkey in 2018 after some soul-searching. The entire 12-minute video touches on a range of topics (and indeed included her best beauty tips), but with it, she joins a small but growing number of stars speaking up about that all-consuming pressure to look perfect.
Grande's video starts the way most do — upbeat music, a luxe hotel bathroom, and the barefaced celebrity looking right into the lens. She starts out with a skin care routine run-through before starting on her pink cat-eye makeup, eventually moving on to line her lips. "Full disclosure," she starts off with a smile, "I've had a ton of lip filler over the years, and Botox. I stopped in 2018 because I just felt—too much! I just felt like hiding, you know?" Grande gets visibly teary-eyed, laughing adding, "Didn't expect to get emotional!"
She went on to add, "For a long time, beauty was about hiding for me and now I feel like maybe it's not since I stopped getting fillers and Botox." She mentions that she might start again someday or possibly even a facelift in her later years, but for now is content to simply be in her own skin.
It's not just the needle-tipped injectables that earned a reevaluation from Grande. She shares that she started analyzing her feelings regarding makeup and how she was actually using it, too. "My relationship to beauty has changed so much over the years, especially because I started so young," she explains just after carefully drawing on her eyeliner. "Over the years, I used makeup as a disguise or something to hide behind...but as I get older, I don't love that being the intention behind [my makeup use] anymore." She says that she now considers cosmetics and hairstyling as forms of self-expression used to emphasize her natural features rather than alter or conceal them.
Based on the videos comments, her point-blank talk about her relationship to aesthetics is impressing. While more and more celebrities are opening up about exactly what measures they've taken to look perfect to the public — Jennifer Aniston, Salma Hayek, and Kristin Davis have all been especially candid about their "anti-aging" philosophies lately — it's still a rarity, particularly among for under-40 stars. With Grande's voice in the mix, expect the conversation to only grow louder.