Apple Martin Is The Spitting Image Of Gwyneth Paltrow In Her Mom's Vintage Oscars Gown
The resemblance is uncanny.
@gwynethpaltrow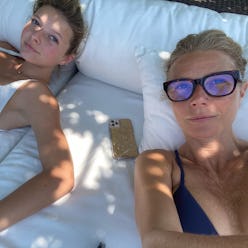 We may receive a portion of sales if you purchase a product through a link in this article.
Ahh, to be a celebrity offspring. Not only do A-listers often pass down their talents to their kiddos (consider Maude Apatow's acting chops and Kaia Gerber's modeling skills), but nepo babies get to raid their parents' lavish wardrobes, too. Take, for instance, Gwyneth Paltrow's 19-year-old daughter Apple Martin, who clearly likes to play dress up in the actor and Goop founder's closet. Case in point: On June 15, Paltrow posted a photo of Martin in her '02 Alexander McQueen dress from the 74th Academy Awards, and the teen looked like a spitting image of her famous mother.
While spending time in Italy yesterday, the wellness enthusiast took to Instagram stories to do an "Ask me a question" Q&A. In addition to answering followers' inquiries like What is your breakfast today? Paltrow addressed whether or not her mini-me wears any of her fashion archives. Short answer? Yes, she absolutely does. To prove it, Paltrow shared an image of the teenager, which People captured below, posing in her slightly controversial Alexander McQueen dress from the 2002 Oscars. (What we would do to see Paltrow's exquisite walk-in closet IRL.)
That's right, fashion buffs will recall that this edgy, gothic dress didn't exactly land Paltrow on the best-dressed list. The look, which raised eyebrows among style critics, featured a see-through nude top and a black taffeta skirt. And in 2013, she addressed the questionable fashion moment in an issue of Goop, specifically what she would have done differently. "There were a few issues; I still love the dress itself but I should have worn a bra and I should have just had simple beachy hair and less makeup," she wrote. "Then, it would have worked as I wanted it to — a little bit of punk at the Oscars."
However, if you're a fan of the look (naked dressing is all the rage these days, after all), you needn't be the offspring of someone famous to resurrect this vintage dress. While the exact style isn't available (unless, of course, you somehow have access to Paltrow's closet), you can shop similar see-though numbers below.