Triangle Box Braids Are The Easiest Update To The Beloved '90s Style
Choosing just one look will be hard.
@pearlthestylist_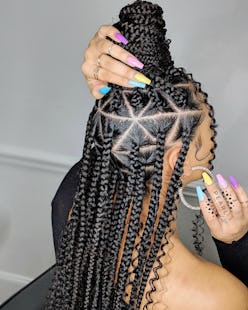 Protective styles have always been a way for naturals to showcase their personality through their hair, whether it's the beachy, carefree vibe of faux locs, the simple yet versatile look of cornrows, or a modern take on two-strand twists. The endless options continue to grow as stylists find new ways to get creative with traditional looks. Triangle box braids, for example, are the latest trend to get a makeover. Knotted or knotless, these braids are an artistic update to the beloved '90s hairstyle that's spiked in renewed popularity.
Triangle box braids are characterized by the partitions that separate each piece of hair. Unlike regular braids that use a rectangular or square-shaped part to define each section, this look features an angled version. The result? A geometric pattern that makes the original style feel decorative and fresh.
These days, summer protective styles are all about remixing the classics. So if you've been looking for a fun way to spice up your look, these gorgeous braids might be just the twist you need. With a subtle design, they also appeal to minimalists. Ahead, the best triangle box braids to test out this summer.
Half-Up, Half-Down Bun
The half-up, half-down hairstyle with a bun is a classic option for those with braids because it's a great way to show off the delicate triangle parts. To add to the summery vibe, leave two face-framing braids out front and intricately wrap them with decorative wire.
Blonde Boho Braids
One advantage of wearing a protective style is being able to change your hair color without the commitment or risk of dyeing your natural hair. For a completely bold look, opt for this blonde approach that combines the triangle trend and floaty boho braids.
Mini Triangle Braids
Mini braids may take a long time to install, but with triangle parts, the payoff is worth wait. Small but precise angled sections give the knotless style a fresh update that's unique and cool.
Jumbo Triangle Braids
In a similar fashion, jumbo knotted braids are the ideal way to showcase the artistic nature of this trend. They may look simple, but the larger sections keep the hair away from your face, so it's great for hot summer days. Not to mention, it requires less time at the salon and a shorter take-down period so you can easily shift to a new style.
Colorful Ombré
Creativity is a big part of what makes each protective style so unique. If your hair is already colored, opt for braiding hair in a traditional shade to give the style an ombré effect. The look can also easily be done on naturally dark hair by using colorful options for the extensions.
Top Bun
Jumbo-sized angular parts give this classic hairstyle an elegant and edgy feel. Despite the long length, the large plaits are lightweight and will keep the hair at the crown safe from tension, which can be damaging to the delicate area.
Geometric Knotless
If knotless braids are your go-to style, give them an upgrade with a geometric pattern. Whether you decide to go long or short, these sharp triangle parts are sure to turn heads wherever you are.
Mix & Match
Though there are a lot of styling options, you don't have to settle on just one. For a truly one-of-a-kind take on the trend, opt for a blended look that mixes elements of different braids. Here, tiny angle-shaped parts, stitch braids, and boho tendrils come together to create a unique finished product.
Deep Side Part
A deep side part gives a sexy edge to these jumbo braids. For the full effect, let the curls flow freely at the end and swoop your baby hairs to frame the face.
Triangle Butterfly Locs
Triangle parts aren't just for braids. In fact, the simple design can be added to any sectioned protective style to create a cool patterned look. If braids are not your favorite hairstyle, try incorporating the angle-shaped partitions into butterfly locs, soft locs, or even jumbo twists.