This Tinted Brow Serum Offers Both Instant & Long-Term Benefits
Makeup minimalists: This is one brow product you'll want to have in your arsenal.
Written by Isabella Sarlija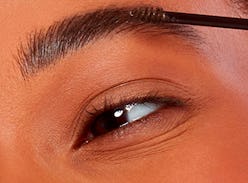 We may receive a portion of sales if you purchase a product through a link in this article.
The journey to fluffier brows can include countless temporary products, from brow pencils and pens to powders and pomades. But while most of these products' results vanish with your cleanser at the end of the day, Grande Cosmetics has come out with a tinted brow serum that offers long-term benefits, too.
Brow serums — while not necessarily a new invention — work by fortifying your hair follicles and supplementing them with the ingredients they need to appear fuller and healthier over time. But the problem with most brow serums is that they're typically clear and don't offer any hold. Grande Cosmetics GrandeBROW 2-In-1 Tinted Brow Gel + Brow Enhancing Serum, on the other hand, combines all the brow-enhancing benefits of the brand's OG brow serum with the functionality of a tinted brow gel.
To learn more about it, keep reading.
Fast Facts:
Price: $38
Key Ingredients: Castor oil, vitamin E, jojoba esters, sunflower seed wax
Wear time: Up to 12 hours
Cruelty-Free: Yes
Vegan: No
Available shades: Light, medium, dark, auburn
Best For: Anyone who's after fuller, stronger, more defined-looking brows
How It Works
Grande Cosmetics' tinted brow gel and serum is powered by several key ingredients, including castor oil to stimulate the hair follicles; beet root extract, which the brand says is full of nutrients that support healthy hair; and vitamin E, another nutrient-rich ingredient with plenty of nourishing benefits. Other hair-healthy ingredients in the formula include jojoba esters, glycerin, and both the wax and oil from sunflower seeds.
Thanks to this concoction of ingredients, Grande Cosmetics believes that, with daily use, you should notice stronger, fuller-looking brows in as little as six to eight weeks, with full results popping up around the four-month mark.
But for those who enjoy instant gratification, the brow serum comes in four shades to darken and enhance your brows immediately upon application. Furthermore, this brow gel helps add volume with its mini fibers, and, like any typical brow gel, is capable of shaping and filling in your brows. Last but not least, it's smudge-proof and boasts a wear time of up to 12 hours.
Is It Worth it?
Let's cut to the chase, though — is the GrandeBROW 2-In-1 Tinted Brow Gel + Brow Enhancing Serum worth it's $38 price tag? Judging by the fact that this is both a brow gel and a brow serum, I think it's a superb addition to any makeup routine. Most brow serums will run you around the same price without the added benefit of adding depth, volume, and pigment to your brows.
What's more, this is the perfect solution for people who are interested in the idea of using a brow serum, but aren't quite committed to slotting another product into their skin care routine, as it replaces something that you're likely already using in the morning.
Shop The 2-In-1 Tinted Brow Gel + Serum
If you're interested in giving this brow serum a try, you can buy it from Ulta through the link below.
This article was originally published on