Yep, Makeup *Can* Be Good For Your Skin — Here's Why
Matteo Valle/Getty Images Entertainment/Getty Images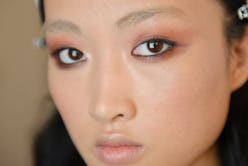 Everyone's been there before: You slather on a layer of fresh foundation or test out a new eyeliner, only to remove your makeup at the end of the day and reveal angry, irritated skin. Unfortunately, makeup — while certainly fun to play with and my personal favorite vehicle for creative expression — can sometimes wreak havoc on your skin, especially when you're prone to acne or sensitivity. So what cosmetics are actually safe to use? To get the truth, The Zoe Report went straight to the source(s) and interviewed three derms about their personal product picks. This is the makeup that's good for your skin, according to dermatologists.
It all starts with understanding your skin type and your skin's needs; and since base products like foundation, concealer, and powder spend a lot of time in direct contact with your face, it's most important to choose the right formulation here. "For example, a matte finish liquid is better for oily skin, and a moisturizing liquid is better for dry skin," Dr. Sejal Shah of SmarterSkin Dermatology tells The Zoe Report. "If your skin is slightly oily or slightly dry, a powder or cream-to-powder can work well."
The next step is avoiding ingredients that are potentially comedogenic (aka, pore-clogging) or irritating. "The good news is that most people can use makeup without problems," Dr. Heather Woolery-Lloyd, a dermatologist known as Dr. Heather, tells TZR. "But for some people who are highly allergic, makeup can be irritating especially around the eyes and lips." If this rings true for you, she suggests cutting out known irritants like parabens, phthalates, and fragrance. "Fragrance is the most common ingredient in makeup that can cause an allergy," the dermatologist explains.
As for the exact products should you be using once you have the basics covered? That comes down to personal preference, but the 15 derm-approved picks below are a good place to start.
Ahead, three comprehensive makeup routines that run the gamut from a full face to the bare minimum, straight from dermatologists.
A Full-Face Routine
"I use the NARS Sheer Glow Foundation and Radiant Creamy Concealer," Dr. Shah says. "I love this foundation and concealer because they are hydrating for my slightly dry skin and provide a natural looking finish, and of course their shades match my skin tone well. I also love that the concealer has light-diffusing technology to instantaneously blur imperfections. I usually set my foundation with the bareMinerals Mineral Veil Finishing Powder. I also use L'Oreal True Match blushes, because they go on smoothly and blend evenly into the skin; and sometimes, a bareMinerals lip gloss."
A Minimal Routine
"I don't wear a lot of makeup but I do love lipsticks," Dr. Heather tells TZR. "My favorites are sheer lipsticks and tints, like Revlon Balm Stain and BeautyCounter's Sheer Lipstick."
Even though she doesn't wear a ton of makeup herself, Dr. Heather does have some product recs that she often passes onto clients. "Almay has been a good brand for people with sensitive skin," she says — but warns against falling victim to makeup that claims to have SPF, antioxidant protection, or skin-clearing benefits built in. "In general, makeup that focuses on skincare does not have high enough concentrations of active ingredients to be effective so I wouldn't replace your skincare products with makeup products with skincare claims," the dermatologist explains. "These products may be a nice addition, but won't replace the antioxidants in serums or the SPF in a sunscreen."
An Acne-Prone Routine
If you follow the popular Instagram account @brownskinderm (and if you don't, you should go check it out), you're already familiar with Adeline Kikam, MSc. DO. She's a dermatology resident using social media to promote dermatologic care for skin of color — but she also wears makeup on the daily and has a lot of insightful advice on how to keep breakouts to a minimum when getting glam.
"I have combination skin, prone to acne and post-inflammatory hyperpigmentation," she tells The Zoe Report. "It is important that makeup does not further aggravate my skin since I wear it daily and for often long periods of time. I narrow products by looking for labels with terms such as 'hypoallergenic,' 'fragrance free,' 'oil-free,' 'non-acnegenic,' and 'non-comedogenic.'"
"I wear more loose mineral powder foundations, like Alima Pure Satin Matte Foundation, which tends to have less preservatives and stabilizers during acne breakouts compared to liquid foundations," Kikam says. "I love mineral foundations when it comes to acne-prone skin because they contain zinc oxide, which has broad spectrum coverage for the sun's harmful rays along with being anti-inflammatory and calming to inflamed skin. Other notable products I love include Bobbi Brown Sheer Finish Pressed Powder and bareMinerals Loose Blush Powder. Also, sun protection is an essential part of the anti-aging & anti-hyperpigmentation component of my skin care."
How Derms Remove Makeup
One thing all three derms agree on? The importance of removing your makeup before bed.
"To take off makeup, I use the Specific Beauty Purifying Cleanser," Dr. Heather says. "It's formulated with salicylic acid, so it's great for those with oily skin and helps to unclog the pores." In the winter months when her skin is dry, she opts for the Specific Beauty Daily Gentle Cleanser instead, since "it gently removes dirt and impurities and is good for all skin types."
Kikam swears by Cerave and La Roche Posay Micellar Water to wash away stubborn makeup at the end of the day. "They are very gentle on the skin and do a good job of removing makeup without stripping the skin of moisture," she says. "I also take makeup-free days, especially on weekends." Because makeup that works this hard needs some time off, too.