Supergoop!'s Sunscreen With Retinol Has Revolutionized My Morning Skin Care Routine
It's like two products in one.
Courtesy of Erin Lukas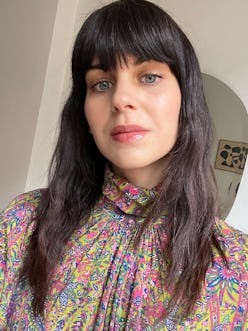 We may receive a portion of sales if you purchase a product through a link in this article.
In our series Trial Run, TZR editors and writers put the buzziest new beauty products to the test and share their honest reviews. This week, beauty editor Erin Lukas is testing the buzzy Supergoop! Daily Dose Bioretinol + Mineral SPF 40.
Sunscreen and I have always had a tumultuous relationship. As a beauty editor in her 30s who's hyper-focused on maintaining a smooth, glowing complexion, I'm well aware that no anti-aging routine is complete without daily SPF application. Any dermatologist will tell you the product is the most effective way to prevent fine lines, wrinkles, and hyperpigmentation, along with minimizing the risk of skin cancer. However, wearing sunscreen is easier said than done if you have acne-prone skin like I do. Many formulas — especially those with chemical filters — tend to clog my pores, leading to breakouts. And while mineral filters are a gentler alternative, many formulas are thick, chalky, and pill under my makeup.
Supergoop!'s Mineral Mattescreen is one of the few exceptions because it layers beautifully over my moisturizer and under my foundation, and has been my go-to SPF for the past few years. So when the brand recently launched the Daily Dose Bioretinol + Mineral SPF 40, an innovative mineral SPF that doubles as an anti-aging retinol treatment, I was intrigued. Typically, retinol is an ingredient that is recommended to be used at night since it can cause sun sensitivity, so it seems counterintuitive to include it in an SPF.
I immediately put the multitasking product to the test to determine if it could really check off two boxes in my skin morning care routine. Ahead, my honest thoughts on Daily Dose Bioretinol + Mineral SPF 40.
Fast Facts
Price: $46
Size: 1 oz/30 mL
Clean/Cruelty-Free: Yes
Best For: Those concerned with fine lines, wrinkles, uneven skin texture, and dullness
Ingredient Highlights: Bakuchiol, English oak bark extract, collagen-boosting peptide
What We Like: Lightweight, doesn't leave a white cast, and doesn't pill
What We Don't Like: Can be a little greasy
Rating: 4/5
How TZR Keeps Score: 1/5: Making a return; 2/5: Keeping as a backup; 3/5: Finishing to the last drop; 4/5: Recommending to my group texts; 5/5: Already on auto-replenish
The Formula
Supergoop! created Daily Dose Bioretinol + Mineral SPF 40 with all skin types in mind, including those who are sensitive to SPF filters and retinol. It's formulated with bakuchiol, a plant-based alternative to retinol, which offers the same anti-aging benefits without the dryness and peeling many experience when their skin is getting acclimated to vitamin A. Daily Dose Bioretinol also comes with a collagen-boosting peptide to firm the skin and English oak bark extract to protect against free radicals.
"Daily Dose Bioretinol is designed to be tolerated by sensitive skin, which means anyone can use it," Elyse Love, M.D., F.A.A.d., a board-certified dermatologist in New York City, tells me. "This can be used as a replacement for other antioxidant serums or as another layer of protection. Bakuchiol, antioxidants, and SPF are great ingredients to prevent the appearance of sun damage (fine lines, wrinkles, and pigmentation), so with this product it is more about what you won't see on your skin in the future. However, the formula does provide an instant glow and hydration to the skin."
Because of the formula's bevy of active ingredients and their respective benefits, the brand refers to Daily Dose Bioretinol as an SPF treatment, which is where the texture comes in. Unlike most mineral sunscreens, this SPF is a serum-like liquid rather than a thick, goopy lotion. Also, the English oak bark extract naturally gives it a beige tint, which helps with blending it into the skin.
My Typical Morning Skin Care Routine
As an adult, I've learned to be a morning person. However, I'm not willing to set my alarm earlier to accommodate an extensive skin care routine — I need the products in my lineup to be efficacious and to absorb quickly into my skin so I can move on to makeup and get the day started. Typically, I'll wash my face with a gentle, hydrating cleanser, apply an antioxidant-rich vitamin C serum to treat hyperpigmentation and protect against environmental aggressors, slather on a ceramide-packed moisturizer, and finish off with a mineral SPF (30 or higher per dermatologists' recommendation).
My Experience & Results
Because I'm always looking for skin care products that promise to do the most so I have less steps in the morning, I was excited to try this sunscreen because it offers protection from UV/UVA rays and targets many of my major skin concerns: preventing wrinkles, fine lines, and minimizing post-inflammatory dark spots from past breakouts. So, it's been the last step in my routine for the three weeks.
I was initially taken by the texture, which is unlike any other mineral SPF I've tried. It melted seamlessly into my skin, and didn't cause my go-to Kosas Foundation (which also has mineral SPF in it) to go on uneven or clump throughout the day. That said, the brand recommends applying six to eight drops (and reapplying every two hours), which left my skin a little too greasy. I ended up sticking to five drops, which was the perfect middle ground for my skin.
Like Dr. Love mentioned, this product is more about prevention than seeing instant results. So aside from the instant glow, I haven't noticed a difference in my skin concerns. But the non-irritating active ingredients are worth their weight in gold alone — I haven't experienced any dryness or sensitivity since adding it to my morning skin care routine.
Is It Worth It?
As someone who has tried virtually every mineral sunscreen on the market, I can confidentially say Daily Dose Bioretinol + Mineral SPF 40 is worth trying for anyone who experiences breakouts from chemical SPF filters and is also concerned about visible signs of aging. While this sunscreen is a bit pricier than others at $46, it's actually a great deal given its innovative combination of ingredients. While I won't be waking up earlier any time soon, I've started to look forward to getting out of bed and doing my skin care routine in the morning, all thanks to this recent addition.