This Drugstore Makeup Primer Has More Than 3,000 Glowing Reviews
ImaxTree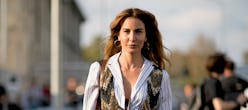 We may receive a portion of sales if you purchase a product through a link in this article.
It's no secret that a good beauty look starts with the foundation. But in order for that foundation (and the rest of your makeup) to stay in place all day, you need to start with a reliable primer. And since dependable doesn't have to equal expensive, consider adding the best drugstore primers to your basket next time you stop by your local drugstore.
When you walk down the beauty aisles of a drugstore like CVS, it's easy to be overwhelmed by all the options in front of you. Not to mention, you may have no idea which ones actually work — and with so many choices, it's not really feasible to try them all.
As it turns out, there are several drugstore primer options that do in fact compare to luxury label buys – and the evidence is in the five-star reviews. Better yet, the best of the best ring in at under $20. That's a price worthy of considering a break up with your department store primer, right?
Affordability aside, the highest rated drugstore primers also cover a variety of makeup goals. So, whether you're trying to create a super smooth canvas for a full face look, or aiming to add extra glow beneath your foundation, there's an under-$20 primer up to the task.
At the top of the best drugstore primers is Maybelline's Facestudio Master Prime Blur + Smooth Primer. The mainstay brand's $11.79 priming product has a whopping total of 3,292 five-star reviews on CVS' website, so let that be a testament to just how well this cheap pick works.
According to fans of the Blur + Smooth Primer, it actually does just that. When you apply it to your face, it smooths over your skin and blurs pores, lines, and blemishes, so that you're left with an even canvas for makeup application. Reviewers backed its ability to minimize pores, and its velvety soft texture that prevents makeup from looking cakey.
If keeping shine at bay is your biggest concern, opt for the $6.79 Stay Matte Primer from Rimmel. The London-born affordable beauty brand has long been popular stateside, and shoppers count its mattifying primer among their favorite buys. The nearly-five star rated priming gel goes on transparent, so skin isn't left with a white or filmy cast. Reviewers say the product's name rings true — it keeps makeup matte throughout the day.
Admirers of a dewy face aren't left wanting either – for a subtle glow and pore-blurring benefits, grab Revlon's PhotoReady Pore Reducing Primer, $16.99 at CVS. The popular pick has over 700 five-star reviews, claiming that it's the must-have for creating a luminous look.
Equally popular for fans of a glowing face is the L'Oréal Paris Infallible Pro Glow Lock Face Makeup Primer, for $15.79. The easy-to-apply liquid primer has a pearlescent sheen to it so a glow shines through beneath foundation. Users say it leaves their skin feeling hydrated and naturally radiant.
If you're in the market for an effective primer that won't make a major dent in your monthly budget, browse the best of crowd-favorite drugstore products below. Word has it, they're totally worth the money and the hype.
This article was originally published on