This Minimalist Makeup Trend Wants You To Toss Out Your Mascara
One less step for the win.
@haileybieber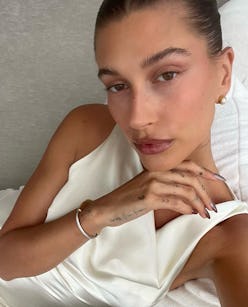 We may receive a portion of sales if you purchase a product through a link in this article.
Mascara is often the sun that the rest of your makeup revolves around. But this season, celebrities and beauty content creators alike are opting out of thick, smoky eyeshadow and heavily lined lids that are typically anchored with dramatic lashes. Instead, they're trying the impossible: fresh, energized faces with minimal makeup on their eyes. Yes, even lengthening and volumizing lash products are getting cast aside. Hailey Bieber, beauty trend lightning rod and TikTok's favorite "it-girl," has been an early adopter, and she isn't alone. Cool girls all over the internet are opting for makeup looks without mascara.
Dominique Lerma, professional makeup artist and OMNIA Brush executive artist, believes the way to do it right (aka not look like you're about to fall asleep) is to pick your favorite feature on your face and emphasize or highlight that area. "Brows, cheeks, and lips are always having a moment. Focus on one aspect of the face and be generous in your application," she says.
Ahead, TZR spoke to three top makeup artists for their tips on how to do makeup looks without mascara, including how to avoid appearing like you pressed snooze a few too many times on your alarm clock.
Prioritize Skin Prep
In order to achieve this look, bright and juicy skin is a must. Lerma recommends going through your skin care regimen before diving into makeup. "Mindfully applying your skin care helps create a healthy barrier for your makeup and doubles up as a priming technique sans primer," she shares.
After cleansing your face, start off by applying a generous amount of a hydrating serum and bringing it all the way down to the décolletage. Glow Recipe Plum Plump Hyaluronic Acid Hydrating Serum is a solid option for this step, thanks to its hydration and plumping abilities. After the serum has fully absorbed, seal in the benefits with a moisturizer like the Charlotte Tilbury Magic Cream. Finally, top it off with sunscreen. If you're in the market for an SPF that won't pill under makeup, try Shiseido Ultimate Sun Protector Lotion SPF 50.
A Glowing Complexion Is Key
After your skin care has settled, perfect your complexion (aka your canvas). "A glowing, dewy complexion is essential to this look — it's very modern and chic," says celebrity makeup artist and founder of her namesake beauty tool line, Jenny Patinkin. She suggests using light creamy products that blend well with a makeup sponge. This helps to ensure that you don't have any streaks in the skin and that your coverage is even and light.
Patinkin loves the Westman Atelier Vital Skincare Dewy Foundation Drops for how the formula delivers instant radiance and camouflages imperfections. For more opaque coverage, Lerma suggests the IT Cosmetics CC + Cream SPF 50+. "It has been in my kit forever. It's full coverage and can be sheered out, leaving the skin looking flawless," she says.
Once your base is finished, Mariela Bagnato, celebrity makeup artist and founder of MBeauty, suggests using two shades of concealer, one that's your skin color and one a shade lighter, to brighten the under eyes and nix any discoloration.
Then, contouring is a must according to Bagnato. She suggests using a bronzer to create a "soft sculpt" around your cheekbones. Apply cream bronzer like the Saie Sun Melt Natural Cream Bronzer above the valley of your natural cheekbones and blend upwards.
Emphasize Your Eyes
There are other ways to draw attention to your eyes without using mascara. For starters, Patinkin recommends a cream shadow. "Powder eyeshadow can get stuck in your lashes and make them look dull," she explains.
To get the job done, Lerma recommends the Merit Solo Shadows, specifically the shades Vachetta and Midcentury, for a neutral wash of color during fall and winter.
Bagnato offers a bolder approach. "My best advice is to apply a metallic eyeshadow with your fingers and cover your eyelid and blend it to the crease," she says. RMS Metallic Eyelights Cream Eyeshadow glide on smooth, offer high-shine, and don't crease throughout the day.
But just because you won't be using mascara doesn't mean your lashes don't need some TLC. Before finishing your face, take a curler to them. For the most dramatic curl, Lerma suggests holding a blow dryer about three inches away from your eyelash curler — the Surratt Beauty Relevee Lash Curler is her favorite — and swiping across the lash clamp. She then uses her index finger and gently taps the rubber bumper to ensure that it is warm and curls the lashes for 10 to 15 seconds. Make sure to get as close to the root as possible.
"Think of this technique as a curling iron for your lashes," Lerma explains, "I highly recommend [it] for those with stick-straight lashes or those that do not stay curled throughout the day." To finish off, swipe on the Maybelline Great Lash Washable Clear Mascara for added definition.
If leaving your fair haired lashes bare is a nonstarter, you can still participate in the trend. Unfortunately, not everyone is blessed with a dark, thick heap of eyelashes. Curl your lashes as directed and swipe on a coat or two of brown mascara rather than your typical jet black. This defines your lashes without too stark a contrast.
Enhance Your Brows & Lips
Your brows and lips are the bookends of your face, and when mascara is out of the question, adding more emphasis to these areas make your look more polished.
"You'll want to make sure that your brows are neat and controlled," suggests Patinkin, "You don't have to sculpt or fill them in too heavily, but messy brows can be a distraction from the rest of your look."
The Grande Cosmetics GrandeBROW Laminate Styling Gel keeps your hairs standing up all day while simultaneously conditioning them.
For the lip, all of the experts suggested going bold to solidify the look. Think a bright red or fuschia."Pound Cake Cake Batter Liquid Lipstick makes it easy to create a perfect classic red for your specific lip tone," Bagnato says. Not to mention, it lasts all day on the lips.
Alternatively, a tinted balm or lip oil is another option for days when you want to keep your makeup low-key.