Multi-Priming Is The Trick For Keeping Your Makeup Fresh All Day
Two (or three) are better than one.
@joyjah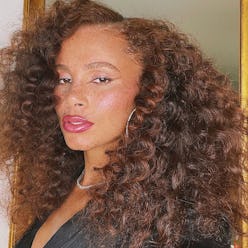 There are very few things worse than taking your time to perfect your makeup, only to find it fading, creasing, and getting disturbed by your skin's natural oils throughout the day. While the necessity of primers has long been debated, many beauty enthusiasts and experts agree it's a vital pre-makeup step to ensure your look stays fresh from application to removal. To take it one step further, you may have seen multi-priming (or as some call it, block-priming) making waves across your FYP on TikTok.
Multi-priming is similar to mascara cocktailing in that it involves using multiple products of the same category to achieve a desired result. Where it differs is that instead of layering each primer formula onto each other (like you would with mascara during mascara cocktailing), multi-priming involves strategically applying them in designated parts of your face to tackle that area's specific issues. Is this the answer to all of your makeup-longevity woes or is it a recipe for a caked-up disaster? TZR turned to celebrity makeup artists Judi Gabbay and Neil Scibelli for the answers.
What Is Multi-Priming?
"Multi-priming is the technique of applying various primers in different areas of the face that vary in texture or skin issues," explains Gabbay. Generally speaking, the makeup artist says "Primers are important to ensure smooth makeup application that's also long-lasting." It can even help address areas of uneven skin tone (in this case, with color correction). To get started with multi-priming, think of dividing the face into five distinct sections of forehead, eyes, cheeks, nose, and chin. Consider what issues you face in each of these areas, whether it be oil production in your T-zone or enlarged pores on your cheeks, and choose a primer accordingly.
What Are The Benefits Of Multi-Priming?
It turns out, using the same primer formula on the entirety of the face may result in more pronounced issues. For instance, if the goal is to achieve a glowing complexion and you use a radiant primer all over the skin, this can cause your T-zone to appear oily throughout the day. "Personally, I get shiny in my T-zone, so applying a mattifying primer in the center of my face helps keep makeup matte throughout the day, whereas a glowy primer on the perimeters keeps my skin looking dewy and fresh," says Gabbay.
Multi-priming can also help reduce excess product use where it's not needed. For example, Scibelli notes that the pores on our cheeks and nose are often the most visible, so you'd only need to use a pore-filling or pore-blurring primer in these areas rather than all around the face where enlarged pores are a non-issue. Remember: You may find that you'll have more issues to deal with in some areas than others. Multi-priming doesn't mean you have to use five different primers — simply use where needed.
How To Choose Face Primers
The first step in multi-priming is to assess your skin and decide what spots could benefit from a primer. One of the more common uses of face primers is to combat oiliness along the T-zone and keep skin matte throughout the day. In this case, Gabbay suggests looking for mattifying formulas that are oil-free, like Fenty Beauty's Pro Filt'r Hydrating Primer or Milk Makeup's Hydro Grip Hydrating Makeup Primer, which has more of a tacky finish that grabs onto your base for all-day wear. If enlarged pores are the issue, seek out silicone-based formulas like the BareMinerals Original Pore-Minimizing Primer, which works to smooth out the skin and fill in pores, making them less visible. For areas that are prone to dry patches, a hydrating, peptide-infused primer works best (like the soon-to-launch Beauty Blender Firming & Smoothing Peptide Primer, which is also laced with ceramides to add additional moisture).
Finally, primers can be used to color correct uneven skin tone. "For redness, try a green tinted primer on the areas you experience broken capillaries or rosacea," says Gabbay. "Either dab it on with fingers to ensure you're only applying only where the redness is, or use a clean, flat brush in a patting motion." For hyperpigmentation that leans blue-purple (such as, underneath the eyes), use an orange-based primer or color corrector. To neutralize orange or yellow tones in the skin, Gabbay recommends using a lavender shade. If color-correcting is on your multi-priming menu, Tarte's Shape Tape Corrector comes in a slew of shades — from green to neutralize redness to peach to combat discoloration underneath the eyes.
Downsides Of Multi-Priming
Multi-priming doesn't come without its downsides. For one, while its goal is to address your skin issues, it can lead to clogged pores if proper after-care isn't considered. Specifically, Scibelli explains that one of the most common ingredients in a mattifying primer is dimethicone, a form of skin-safe silicone that essentially seals the pores and minimizes oil production. "Though the ingredient is effective, it can also be pore-clogging over time, so washing it off at night is key," he says. "To ensure you're getting all layers of makeup and primer off of the skin, my suggestion would be to double cleanse if you're multi-priming," says Scibelli. "Using a toner after cleansing is also helpful to do a clean sweep of the pores as well."
Another dreaded downside of multi-priming: cakiness. "I've personally noticed that mattifying primers can lead to cakiness if it's applied to dry skin," says Scibelli. "To combat a mattifying primer from potentially caking up, be sure to moisturize your skin beforehand — especially if your primer isn't hydrating." In any case, using multiple primers shouldn't lead to any uneven application if the product is blended well into the skin, Scibelli adds, so make sure you're taking the time to spread it evenly.