Over-40 Celebrities Swear By This Complexion-Perfecting Foundation
It's already got VB's approval.
@victoriabeckham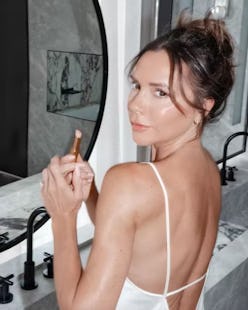 We may receive a portion of sales if you purchase a product through a link in this article.
If the body positivity movement has one message for people over 40, it's to stop agonizing over perfectly natural things like dark marks, fine lines, and wrinkles and make peace with the beauty of mature skin. The experts agree: When it comes to foundation, women over 40 should worry less about covering up supposed "flaws" and focus instead about choosing products that will keep their skin radiant and healthy. The best makeup products for mature skin, though, can handle both tasks beautifully. These celebrity-approved foundations for women over 40 all manage to strike an ideal balance between confidence-boosting coverage and skin-friendly ingredients.
"You want to work with products that are lightweight and don't dry out the skin," Scott Barnes, Jennifer Lopez's makeup artist, previously told TZR. When it comes to foundation for those over 40, he emphasized that less is more. Piling on products in an effort to hide something is perhaps the biggest mistake someone can make regardless of age, he shares. Instead, drink lots of water — the recommended two liters per day, then more — for a healthy complexion, and apply foundation only to the areas of the face that may need it rather than all over.
Think of your makeup as skin care: Choosing products that hydrate and provide ample UV ray protection is key. To make the hunt easier, explore the very best celeb-approved foundations for skin over 40 just ahead.
This article was originally published on