Stop Under-Eye Concealer Creasing For Good With These Simple Steps
Kirk McKoy/Los Angeles Times/Getty Images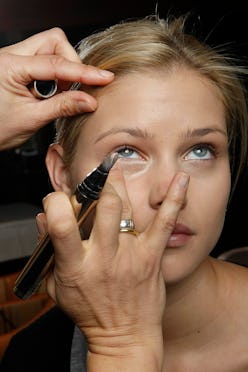 Time and time again, concealer has proven to be the ultimate makeup product. With a swipe or few dabs, it can quickly mask dark circles and brighten your under-eyes. That said, you've probably learned how to apply under-eye concealer to cover common concerns like dark circles. But no matter how many times you've patted in or blended out a formula, certain issues, like creasing, always seem to occur.
The reason for a less-than-flawless finish? The skin under and around the eye is among the thinnest on the body making it more prone to wrinkles — and tricky for concealer application. "The eye area naturally has a lot of fine lines but is also subjected to consistent movement, which can affect how a product appears on the skin," says celebrity makeup artist Sarah Egan. She continues noting that while using your fingers may help move the concealer around the delicate area, creasing can still be an issue. Basic application is great for spot coverage, but mastering how experts use under-eye concealer is the key for creating a smooth finish that stays put throughout the day.
Ahead, TZR chatted with three celebrity makeup artists to break down the most common under-eye concealer issues and how to sidestep them with professional application techniques. Regardless of whether you're using a brush, sponge, or simply your fingertips, achieving a professional look at home is simpler than you think.
Prep The Under-Eye Area
Fine lines may be the main culprit here, and while you can't completely evade them, proper skin care prep will help you achieve a smooth under-eye concealer application. "To get the full benefit from using concealer products, it's best to start with great skin care products like an eye cream that's loaded with hydrating ingredients, like OAMskin's Eye Revitalizer," says celebrity makeup artist Yolonda Frederick-Thompson. Doing this step first will be your best bet at keeping your skin from drying out while wearing the makeup. Frederick-Thompson adds that a smoothing cream provides a great base for your concealer and can be effective in limiting creasing.
Choose The Right Concealer Formula
"Consistency is key for preventing creasing," says Frederick-Thompson. As she notes, if the product is too oily, it's more likely to settle into fine lines while thicker compositions can be drying and lead to cakiness under the eye. "The best coverage will come from a formula that moves and stretches with the skin," she says. Not only will this make blending easy, it will also keep shifting of the product to a minimum. Egan adds that many concealers are made with key ingredients like vitamin C and hyaluronic acid to help brighten and plump the skin.
Go Easy On How Much Concealer You Use
According to bareMinerals global makeup artist, Carly Giglio, using too much product is one of the most common mistakes people make when applying under-eye concealer. "Given how delicate the [under-eye] skin is, concealer needs to be used sparingly and should be built up to increase coverage," she says. Tayaba Jafri, global beauty director for Laura Mercier, tells TZR that, by design, concealers tend to be thinner formulas to make this notion easy and allow for differing application tools, like brushes, beauty blenders, or your fingers.
Of course, formulations vary depending on your skin needs and coverage desires, but Giglio assures that taking a beat to assess before loading the product onto your skin will be helpful. "Look to see where you need the most coverage or where you'd like to appear brighter to help avoid overloading the area," she says.
Apply The Concealer Strategically
No matter which tool you decide on, placement is crucial for smooth application. "Don't apply concealer all the way up to your lash line as the skin in this area tends to have the most lines and wrinkles," says Egan. Instead, focus the product well underneath the eye, close to your orbital bone, and blend upward toward the lash line.
While Egan and Frederick-Thompson prefer to use their fingers for blending, both note that brushes and sponges can be just as effective for creating a smooth finish. "The warmth of your fingers helps work the product in for a more natural finish, but a stippling brush can give a similar effect," says Frederick-Thompson. However, if you choose to go the brush route, Giglio advises lightly pressing the concealer in with your fingertips. "This further works it into the skin and seamlessly lifts any excess product," she adds.
Set Your Under-Eye Concealer
According to the experts, setting your concealer immediately after applying it will keep it locked in place. After all, there's nothing worse than blending it to perfection just to have it melt away later. "Setting powder helps seal the deal for more staying power," says Frederick-Thompson. In a similar sentiment, Jafri recommends using finely milled loose translucent type, such as Laura Mercier's Powder for Under Eyes, because it's lightweight and won't settle into lines as quickly as a pressed powder might.
Depending on your preference, Egan notes you can use a sponge, puff, or tapered brush, like the dual ended-essential blender brush from bareMinerals. "If you're using a sponge or powder puff, lightly press the product in, being careful not to smudge the concealer," says Egan. For brushes, she recommends using a similar pressing method with light pressure and then lightly rolling the brush to smooth out the powder. "Last but not least, mist your face with setting spray, such as Danessa Myricks' Dewy Forever Mist, to ensure that the smoothed concealer lasts all day," says Frederick-Thompson.