The Best Eye Creams To Take Your Eyes From Tired To Snatched
@youthtothepeople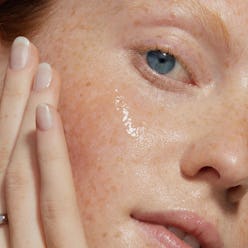 We may receive a portion of sales if you purchase a product through a link in this article.
Join TZR editors for Main Squeeze, the series dedicated to sharing beloved beauty products — be they bold, effective, or simply fun — that make our week just a little bit better. Ahead, Team TZR spotlights their favorite eye creams of the moment.
After trying countless product combinations to build your go-to skin care routine, the idea of adding any further steps in your regimen isn't ideal. Because hey, mornings are busy enough and at nighttime you're exhausted after a long day. But giving extra attention to the delicate areas of your face can pay off. Take the skin under the eye, for example. Fragile and thin, it's notoriously vulnerable to a number of concerns like fine lines, dark circles, wrinkles, and puffiness. Put simply, it needs a specialized product that's more potent than the average moisturizer. This is exactly how the best eye creams are built.
These formulas are highly concentrated and hyper-focused so they target individual concerns and work to diminish them over time. Sounds good right? So if you're on the hunt for a new product to give your under-eyes a boost, the list below is a good place to start.
Ahead, TZR editors share their favorite eye creams to brighten, tighten, smooth, and depuff the skin around and beneath your eyes for your most youthful look yet.
"The area underneath my eyes is especially prone to redness and irritation, which is why I only use super gentle formulas. Fortunately, I've found that Cetaphil's Hydrating Gel-Cream never bothers my skin. The $10 price tag is an added bonus." — Kelsey Stewart, associate fashion editor, TZR
"This is my go-to for tired, and often dry, eyes in the morning. It's a roll-on application so it gives it a tiny, gentle massage which is quite soothing and works to depuff, and the baobab pulp moisturizes while the jasmine and hawthorn brightens the eyes." — Kathy Lee, editor-in-chief, TZR
"Unlike other eye creams with active ingredients, this Youth To The People serum doesn't make my eye area tingle and burn. Instead, the vitamin C, caffeine, and peptides work to brighten, smooth, and plump my dark circles and any dryness. Bonus: The silky formula absorbs quickly and doesn't pill under my makeup." — Erin Lukas, deputy beauty editor, TZR
"This is the only eye cream I use, mainly because it leaves my skin hydrated and smooth throughout the night. It has a light fresh scent and doesn't irritate my skin. However, it's super gentle so if you're looking for one that combats dark circles or puffiness, this product is probably not for you." —Marina Liao senior fashion news editor, TZR
"I don't use eye cream every day, but when I start to notice my under-eyes looking dull and extra tired, I turn to this creamy blend for a much needed boost. It is pretty rich, but it sinks in nicely. And best of all, my skin is noticeably tighter and plumper after just a few days of consistent wear, thanks to a blend of hyaluronic acid, peptides, and 5% vitamin C." — Jessica Fields, beauty writer, TZR
"Although I don't typically use this formula at night, it has become a non-negotiable in my morning routine. Between the lightweight formula that hydrates and depuffs in what seems like an instant to the cooling ceramic applicator wand (genius!) that wakes up and gently massages my sleepy eyes, I truly can't go without this little miracle worker. Ed tip: I like to keep this eye cream in my beauty fridge for added cooling benefits!" — Angela Melero, executive editor, TZR
"My eye area is like the one zone of my face where I somehow have zero fine lines, and I think it's at least partially due to my eye care regimen. I alternate using a retinol eye cream with this extremely hydrating Shani Darden cream twice a day (most clinical study results are based on twice daily usage, by the way). The peptides help with elasticity and basically act like a moisture sandwich in between my retinol schedule. And, despite a propensity for millia, the thick cream never clogs my pores." —Amanda Ross, beauty editor, TZR
"I have yet to incorporate an eye cream into my skin care routine but when I do, it'll be this one. I already use the COSRX snail mucin essence and all-in-in-one cream daily to tackle acne and dryness. It feels like less of a gamble to try a new product when I know the ingredients work for me."—Samantha Scott, newsletter editor & strategist, BDG
"When the seasons change and my allergies begin to act up, I often wake up with puffy under-eyes. While no cream replaces an antihistamine, I like smooth a layer of Honest Beauty's Deep Hydration Cream on my skin. Key ingredients such as chamomile and calendula instantly soothe the irritated area and my skin feels refreshed and hydrated." — Fields
"Rich eye creams often leave my skin looking like an oil slick, but U Beauty's formula absorbs nicely, leaving my skin soft and smooth. Like the rest of the brand's products, it features siren technology, which distributes the active ingredients where your skin needs them the most. In other words, it ensures the firming organic stevia rebaudian and marine plankton extracts get into crow's feet." –Lukas