How One Foundation Launch Changed The Entire Beauty Industry
Fenty Beauty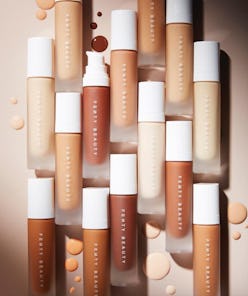 Cult Status is our series that highlights an iconic item from brands both established and buzz-worthy. In these features, you'll discover the fascinating history of how one extra-special piece exceeded expectations and became a forever product. This time, the focus is on Fenty Beauty's Pro Filt'r Soft Matte Longwear Foundation.
It's hard to talk about powerful and inspiring women without mention of Rihanna, a Barbadian musician who just so happened to change the way the world looks at beauty. Robyn Rihanna Fenty's impressive résumé spans the likes of chart-topping music, fashion, and film cameos. But one of the most buzzed-about beauty launch of all time most certainly deserves a round of applause — a standing ovation, if you will: Fenty Beauty by Rihanna's Pro Filt'r Soft Matte Longwear Foundation — which was the third-ranking Top Face Product in the entire industry as recently as January 2019, according to Cherry Pick's The Cherry On Top Report. (The Pro Filt'r Instant Retouch Concealer and Pro Filt'r Instant Retouch Setting Powder were number one and two, btw.)
From her early days in the limelight, Rihanna quickly became known for her enviable glow and bolder, brighter, statement styles using makeup as a means of self-expression. "Makeup is there for you to play. It's there for you to have fun with. It should never feel like pressure, and it should never feel like a uniform," she famously quoted on the Fenty Beauty website. After years of experimenting with some of the most beloved beauty formulas on the market (as you might imagine, she had access to just about every brand under the sun), Rihanna identified a void in the beauty industry for products that performed across all skin types and tones and took matters into her own hands.
"Fenty was an important development because it brought women of color to the center of the conversation. It felt authentic, and of course, had a major celebrity behind it," Janell M. Hickman, a freelance beauty editor and branding consultant tells TZR. While the collection now features a rainbow of vibrant Stunna Paints, high-shine Gloss Bombs, and rich Mattemoiselle Plush Matte Lipsticks that you might come to expect from a makeup line created by Rih herself, it was the impressively inclusive foundation range of the Pro Filt'r Soft Matte Longwear Foundation that set the beauty world —scratch that, universe — into full Fenty frenzy mode.
The Fenty Beauty brand launched in Sept. 2017, debuting a 40-shade foundation lineup that was, quite literally, the launch heard around the world. However, it was hardly the first brand to think outside the once standard and limiting shade spectrum for foundation. For years, brands like Black Opal, Fashion Fair, Iman Cosmetics, and CoverGirl Queen appealed to women of color offering darker skin tone selections and laying the groundwork for this category to explode. And according to makeup artist Ashleigh Ciucci, "pro brands like Make Up For Ever and MAC have had a wide range for years, but this is the first time a brand had broad-reaching pop culture buzz but also delivered to customers on the full skin tone spectrum. It felt like an inclusive and exclusive club at the same time." A club that had an enormous return on investment — after just one month, the brand raked in over $72 million in earned media value, according to WWD.
A quick scan of the beauty consumer market would reveal that Black people make up 13.4 percent of the U.S. population, and had more than $54 million of the $63 million total hair and beauty market industry spend in 2017 (according to the Neilson 2018 report "Black Impact: Consumer Categories Where African Americans Move Markets). "It's pretty crazy that for so many years brands were literally leaving money on the table by not serving women of color," Hickman notes. Precisely where the launch of Fenty Beauty landed, focusing on a wide range skin tones to better serve this under-served market. But even more impactful was the way Rihanna's message resonated beyond the bottle. Her pivotal ad campaign for the brand featured relatable models that made the "untouchable" factor of Rih feel achievable and real.
There are few, if any, beauty launches that stir up the buzz that Fenty does. Surely Rihanna's A-list celebrity status and nearly 70 million Instagram followers helped her message of inclusivity permeate the social and beauty circuit in an unprecedented manner. However, unlike other of-the-moment beauty launches that eventually calm to a steady chatter, this one resulted in its own franchised movement, the Fenty Effect. Aside from being sold at Sephora locations across the globe, as well as Harvey Nichols in the United Kingdom and Ireland, the foundation has over 12,000 online reviews on Sephora's site — which is pretty impressive considering it's only been around for 17 months. It's also racked up over half a million "loves" on Sephora.com, which puts it hundreds of thousands of "loves" ahead of cult beauty classics like Kat Von D Tattoo Liner, Urban Decay Naked Palette, and Too Faced Better Than Sex Mascara.
But even RiRi recognized that while 40 shades offered an impressively inclusive selection, skin tones are endless. Her goal was not simply to provide the most shades possible. It was to find shade matches for as many people as possible. Over the last year and a half, Rihanna and her team met with women around the world, flying them into Fenty Beauty offices to be color matched and help fill in any gaps in the current shade lineup. And last month, she expanded the Pro Filt'r Soft Matte Longwear Foundation to include 10 additional shades across the light to deep spectrum, each one distinctly different from the next. The launch of an extended shade range catapulted the brand into full domination of the beauty face category. According to the January 2019 Cherry on Top Report from Cherry Pick, Fenty claimed nearly 30 percent of purchase intent for face beauty products. This means nearly one in every three customers looking to purchase base beauty products is shopping for Fenty. If that's not beauty market domination, then what is?
Celebrity affiliation aside, what makes the Fenty Beauty Pro Filt'r Soft Matte Longwear Foundation sell so darn well? The answer is simple: It works. The formula meticulously combines the right balance of tone and texture to make a foundation formula that offers coverage, while still looking and feeling like skin. They obsessed over custom pigment levels in order to capture the truest tones with a soft matte finish that weren't too matte or too shiny. The goal was a comfortable longwear formula that makes skin look like your actual complexion. "It's a buildable coverage foundation that won't cake and feels comfortable on the skin," Priscilla Ono, Fenty Beauty Global Makeup Artist, explains to TZR. Not to mention that it's now available in an impressively vast 50 shade range. "Many women I know loved the foundation because for the first time they didn't have to settle on a ho-hum shade, they actually had a pretty decent match (or two)," Hickman says. And in terms of the finish, "it gives you full coverage and a huge plus is that it's available in an amazing shade range!" Ono adds. "It gives you a flawless complexion while still allowing skin to look like skin."
The formula was designed to feel lightweight on the skin (which it absolutely does) while also delivering the buildable coverage you'd want when wearing a base product. "It's satin-matte texture is very of-the-moment, when we're looking for something beyond a super dewy finish," Ciucci explains. Added bonus: a little goes a long way so you're not blowing through bottle after bottle. "The formula is smooth, buildable and perfect for all-day wear. It doesn't cake, crease or make you look like you've got as much makeup on as a Vegas showgirl," Julee Wilson, Fashion and Beauty Director of Essence, shares with TZR. "But honestly what makes the product even more magical is the story behind it — the fact that it represents true inclusivity. While that's not something that's tangible, it's something that makes the experience buying it and wearing it... worth it."