Here's The Hack To Guessing Fenty Beauty's Stunna Week Launches
Radin/Pacific Press/LightRocket via Getty Images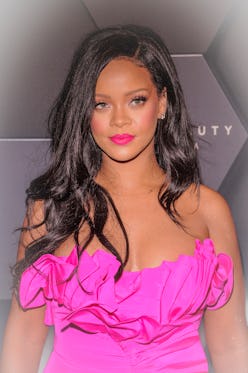 The excitement of a new Fenty Beauty launch is palpable, even if you're spectating from the comfort of your own sofa. Perhaps you're a part of Rihanna's #Navy and have Instagram and Google alerts about all things Fenty Beauty, Fenty Savage, and possibly Fenty Skincare (which isn't a thing yet, but one can only hope). As soon as the page posts, then news spreads faster than wildfire — DMs are sent, tweets are posted, stories are written, shopping carts are filled, and products are sold out. Well, if you're a devotee, then you'd better keep your phone close by: It's Stunna Week, people, meaning new Fenty Beauty launches are coming your way.
"Y'all been wanting more shades... so guess what?! it's #STUNNAWEEK!" Rihanna shared on her Instagram, along with a photo of her modeling Unveil, a universally flattering chocolate brown Stunna Lip Paint Longwear Fluid Lip Color. (She originally wore the color before the launch was even announced — at her Savage X Fenty Spring/Summer 2019 show in New York on Sept. 12.) "Keep an eye on @fentybeauty for even more exciting things coming soon..." Soon after, the brand shared the news and photos of Uncuffed, a rosy mauve. If you've been paying close enough attention, it seems that every time Rihanna's seen wearing a makeup shade nobody can place, it's her testing the waters for an upcoming launch.
And sure, it'd be easy to guess that Fenty Beauty will launch a few more Stunna Lip Paints, but this is Rihanna we're talking about, here. And since when does she ever go by the rules? The world will be paying rapt attention to the activity on @fentybeauty this week — but in the meantime, judging by how Rihanna likes to test the waters by wearing her new launches, here are four products that are (hopefully) coming down the pipeline soon.
Brow Products, Mascara, And Lashes
If you pay attention to the brand's makeup breakdowns, you may have noticed that brow products, lashes, and mascara are never credited. And even though she used to wear L'Oréal Voluminous Mascara in the years before Fenty Beauty was a thing, we're pretty sure that Rih is loyal to her own product. Still, as far as her brows go, that's one secret that's already been revealed. Priscilla Ono, Fenty Beauty Global Makeup Artist, told Harper's Bazaar that she uses a bar of soap to set Rihanna's arches in place... that is, when she's allowed to touch them. (Rihanna likes doing her own brows!)
Hot Pink Liquid Lipstick
Again, the clues are all in the omission. Ono shared nearly every product used for this pretty in hot pink look, including the Moroccan Spice palette, Flyliner in Cuz I'm Black, Killawatt Freestyle Highlighter in Girl Next Door/Chic Phreak, and the Diamond Bomb All-Over Diamond Veil. There is a hot pink Mattemoiselle Plush Matte Lipstick (in Candy Girl) from the line, but Ono didn't list it — leading us to believe that another liquid formula is a-comin'.
White Eyeliner
Not that anyone's counting, but it's been three months and two days since Rihanna wore this crisp and modern cat-eye while sitting front row at Louis Vuitton in Paris. And not that anyone's thirsty, but some of us have been checking Fenty Beauty's Instagram every day since the drop, waiting for a nugget of news: a shade name, a release date, a product launch, anything. However, the lipstick she's wearing looks like a combination of Stunna Lip Paint in Uncuffed, a rosy mauve, as well as Gloss Bomb in Fenty Glow, a shimmering rose nude.
Metallic Liquid Lipstick
How awesome would another metallic holiday collection be? Last year, the brand launched a Galaxy Collection, with a series of glittery goods. Don't be surprised if this deep purple lip, which was spotted at June's Ocean's 8 premiere, resurfaces in November or December. You heard it here first! Well, you know, maybe.