If You Thought 40 Concealer Shades Was Amazing, Just Wait 'Til You Hear Fenty Beauty's Latest Announcement
FENTY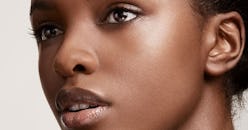 Let's be honest: Finding the perfect foundation is easier said than done. Not only do you have to find one that provides proper coverage, feels comfortable, and lasts all day long, but you also have to find the right match for your skin tone — and anyone, whether they consider themselves beauty-obsessed or not, knows that's the hardest part. So, when Rihanna graced the beauty sphere with Fenty Beauty's Pro Filt'r Foundation with 40 shades that span the spectrum, everyone was talking about it. And just when you thought it couldn't get better than that, she's doing it again.
If 2019 was already off to a good start, Fenty set the tone for the year. The beauty brand just announced that it will be adding 10 new shades to its already-vast number of options to choose from, which will be available on Jan. 11 on Fenty's website, as well as at Sephora and Harvey Nichols. In just over a week, you'll have an even better chance to find the absolute perfect match for your skin tone in the long-lasting foundation.
These new shades range across the existing ones from the initial launch of the product, rounding out the total to be 50. Be sure to mark your calendars and set your alarms, because if any of Fenty's other products, along with the near-perfect rating based on a cool 3,600 reviews, are any indication, these will be moving at a faster pace than you can imagine.
Any type of launch coming from Fenty Beauty — and Rihanna herself, for that matter — is worthy of unrivaled anticipation. Between the pigment-packed lipsticks and eyeshadows, it's no secret that these products will get you in a playful mood. However, it's really the brand's drive for inclusivity within the beauty industry that makes every one of its product a favorite among beauty lovers. After all, it was Fenty's complexion-inclusive foundations and highlighters that proved to be a game changer in everyone's makeup bags. With that in mind, an additional 10 shades to the groundbreaking foundation collection only seemed like a natural progression.
Though you'll have to wait until Jan. 11 to get your hands on these 10 new shades, you can still shop the existing 40, which cost $34 each, to get you started. Now, go ahead and start searching for that perfect match — you know you'll find it here.